Beyond Bank is a provider of online and mobile banking accounts, credit cards, home loans, personal loans, home and contents insurance, car insurance, life insurance, credit insurance, travel insurance, banking solutions for businesses and community organisations, and financial advice.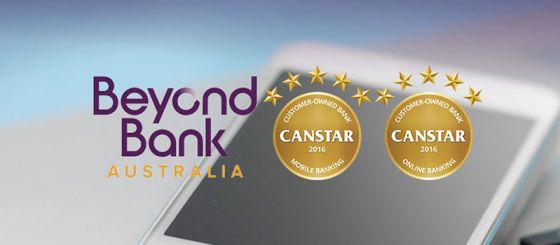 "The other way to bank."
Canstar is pleased to congratulate Beyond Bank on winning the 2016 Awards for both Customer-Owned Institution of the Year – Online Banking and Customer-Owned Institution of the Year – Mobile Banking.
The inclusions below represent a selection of what is covered. Additional conditions may apply to different features. Canstar is not making any suggestion or recommendation to you about this product. Please ensure that you read the product disclosure statement to determine all the current policy options and inclusions for the product you are considering.
Features of Beyond Bank's mobile and online banking
Everyday Transactions: Beyond Bank's mobile banking app and online banking platform have many outstanding features, including the following:
Ability to manage your payments and finances via either desktop or smartphone
Ability to schedule future payments
Ability to save new payees and billers
Ability to make additional loan repayments when needed
Ability to change daily transfer limit
Budgeting Tools: Beyond Bank offers some excellent budgeting tools. For example, their mobile banking app offers the ability to automatically categorise spending behaviour, which customers can then view as graphs of their transaction behaviour in the online banking platform's budgeting tools. The information from these budgeting tools can also be exported for use elsewhere.
Other calculators and tools on offer through the Beyond Bank website and app include:
Mortgage repayment and borrowing calculators
Savings calculator
Credit card calculator
The website also offers financial tips and articles about the financial market.
Alerts: Customers can customise the alerts they receive, including notifications before making a transaction that would incur a fee or overdraw their accounts.
Identity Verification Options: Beyond Bank allows customers to choose the type of secondary authentication they would like to use for their mobile banking app and online banking platform. Their mobile banking app has fingerprint verification enabled, making signing into the app much quicker, easier, and more secure.
Location Search: Looking for your nearest ATM or branch? You now have the option of entering your postcode, suburb, or current location into the location search tool.
Faster Online Applications: Customers can now make a complete application online for products that require ID verification (deposit accounts, credit cards, and personal loans) using either desktop online banking or the mobile banking app.
About Beyond Bank
Beyond Bank is one of Australia's largest customer-owned mutual banks, with 195,000 customers and 49 branches based in South Australia, the ACT, WA and NSW. It started life as Community CPS Australia, one of Australia's largest credit unions, but is now a fully-fledged bank.
Beyond Bank takes customer feedback seriously, even when it comes from social media through their Facebook and Twitter accounts. Customers can also get involved on the Beyond Bank blog, with opportunities to volunteer for the community, success stories from sponsored community organisations, the latest news in finance, and general financial advice.
When it comes to supporting the community, the Beyond Bank Foundation has been providing financial grants since 2007 to not-for-profits that support our health, education, and environment. Bank staff also personally contribute over 1,000 hours of volunteer work every year by using Community Leave Days for the causes that matter to them.
In 2013, Beyond Bank created the innovative Community Banking Packages, including a savings account where a percentage is donated every year to worthy charities, and discounts on financial products for customers who serve as volunteers.
As for the planet we live in, Beyond Bank has been a member of the United Nations Environmental Program Finance Initiative (UNEP FI) since 2008. They also partner with Greening Australia to plant more native habitats and restore ecological systems.
For a little something cultural, Beyond Bank offers the unique Arts Card, a credit card that can only be used to purchase artworks and is interest-free for 12 months.
Please note that Canstar is an information provider and in giving you product information Canatsr is not making any suggestion or recommendation about a particular credit product. If you decided to apply for a loan, you will deal directly with a financial institution, and not with Canstar. Rates and product information should be confirmed with the relevant financial institution. For more information, read our detailed disclosure, important notes, and additional information.