The Australian Government is providing almost $6 million to fund specialist nurses for prostate cancer, covering 15 locations Australia-wide and focusing on regional areas.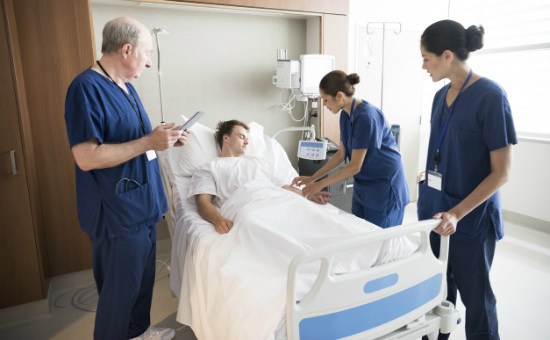 The government's announcement is a continuation of funding for the Prostate Cancer Specialist Nursing Program that started in 2014, run by the Prostate Cancer Foundation of Australia (PCFA).
The Foundation intends to use the funds to hire full-time nurses to help prostate cancer patients, in a specialist nursing program that will run until the 2019-20 year.
Although it has a 95% five-year survival rate, more than 3,000 men die from it every year.
This funding will continue to support prostate cancer nurse positions across Australia so that men with cancer, and their families, receive the support and information they need.
The nursing program is reportedly on track to assist around 4,000 men and their families by September 2017.
The program focusses on providing nurses in regional areas of Australia, particularly in Queensland, New South Wales, and Victoria.
In contrast, other other recent Federal Budget funding cuts to health services such as free dental care and free optometry care through Medicare have not been similarly treated by the Turnbull Government.
Why specialist nurses are worth funding
Men diagnosed with prostate cancer usually see a variety of healthcare professionals over a length of time, including urologists, general practitioners, radiologists, and allied health staff.
Prostate cancer patients can expect improved access to specialists and services thanks to the funding, as well as receiving care from diagnosis throughout the entire cancer journey.
Other healthcare professionals within a multidisciplinary team will be coordinated by the nurses in delivering a long-term treatment plan.
Studies have shown that well-managed care for other cancers has not only resulted in better outcomes for a patient's cancer control, but also their psychological well-being.
The Department of Health believes by funding the nurses, the men suffering prostate cancer will receive the necessary, timely, and coordinated care they need.
The Hon Greg Hunt MP said, "Being diagnosed with cancer is one of the most devastating health issues someone can face, but having the prostate cancer nurses being supportive and compassionate about treating the men, it will be a great help to them and their families."
Prostate cancer nurse locations
| Location | Host facility |
| --- | --- |
| Cairns, QLD | Cairns Hospital |
| Rockhampton, QLD | Rockhampton Hospital |
| Greenslopes-Brisbane, QLD | Greenslopes Private Hospital |
| Port Macquarie, NSW | Port Macquarie Base Hospital |
| Orange, NSW | Orange Hospital, Western NSW |
| Wagga Wagga, NSW | Wagga Wagga Hospital and Community Health |
| North Ryde, Sydney, NSW | Macquarie University Hospital |
| Kogarah, Sydney, NSW | St George Hospital |
| Mildura, VIC | Mildura Base Hospital |
| Footscray, Melbourne, VIC | Western Health Service |
| Mornington Peninsula, VIC | The Bays Hospital |
| Geelong, VIC | Geelong Hospital, Barwon Health |
| Ballarat, VIC | Ballarat Health Services |
| Adelaide, SA | Repatriation General Hospital |
| Bunbury, WA | St John of God |