According to the Telecommunications Industry Ombudsman (TIO) customer complaints as a proportion of telecommunications accounts have decreased over the past twelve months, but have increased 3.2 per cent over the April-June 2016 quarter.
The April-June results reflect an increase in overall new complaints to the TIO during the quarter. Historically, seasonal factors contribute to an increase in complaints to the TIO during January to March, followed by a downturn in April to June. This year, the TIO saw a slight increase in complaints during the April-June quarter.
The April-June figure of 6.4 represents an improvement of 1.5 per cent year on year. The total complaint ratio per 10,000 SIO for all participating providers was 6.4, an increase of 3.2 per cent on the previous quarter.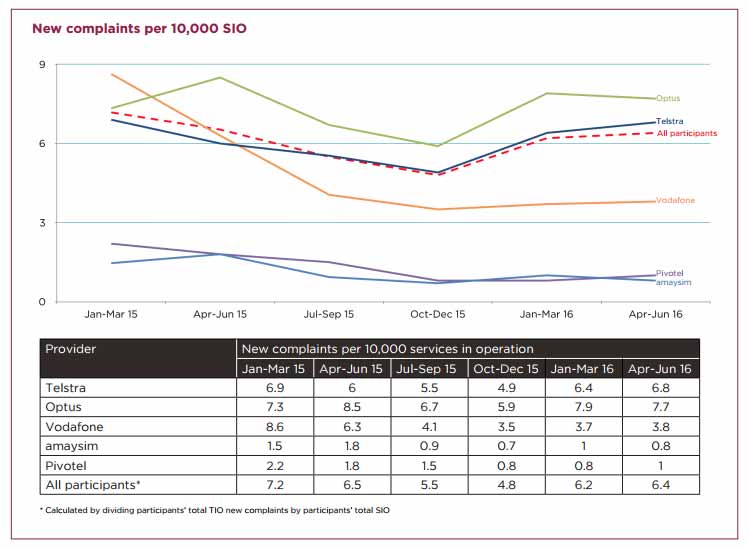 Source: tio.com.au: Complaints in Context publication
When it comes to what we complain about, the TIO advises that based on statistics to March 2016, complaints by service type are split almost evenly between mobile complains (35%), internet complaints (35%) and landline complaints (30%).
The top reasons for complaint are:
Billing and payments 40%
Customer service 37%
Faults 7%
Complaint handling 4%
Contracts 7%
Connection 5%
A recent Canstar Blue survey of 1,238 Australian adults with a plan and phone contract found a high level of customer loyalty – or perhaps inertia – with 45% of respondents not switching plans within the past two years and 38% admitting that they had never switched plans. That is despite 52% of respondents suspecting that they could get better value with a different plan.