The Big 4 major banks have each increased their 'share of wallet' in the decade up to May 2017, according to Roy Morgan research.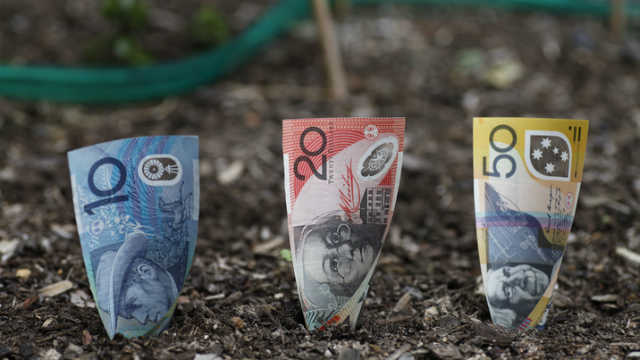 Share of wallet refers to the amount of customers' money a bank handles, widely considered the best indicator of customer loyalty to an institution.
The metric is measured using the total value of a customer's loans (e.g. home loans and personal loans), bank accounts, and credit cards.
Roy Morgan's latest survey of 50,000 banking customers found that BankSA had the greatest share of wallet of any bank, handling 60.9% of customers' money.
The South Australian institution was closely followed by Commonwealth Bank (CBA) on 60.4%, before a significant gap to Bankwest (56.5%) and NAB (55.3%).
BankSA also saw the second-largest increase in its share of wallet since May 2007, at a significant 12.4% growth in monetary share.
BankSA's growth was only overshadowed by that of Bendigo Bank (12.6% increase, up to 51%).
All of the Big 4 major banks saw significant increases in their share of wallet since May 2007:
CBA increased the most, with a 7.4% rise
ANZ increased by 5.2% (to 52.4% overall)
NAB increased by 4.0% (to 55.3%)
Westpac increased by 1.3% (to 52.5%)
"Results in this survey show that it generally takes time to improve 'share of wallet', as evidenced by the fact that the major banks have taken a decade to show significant improvement," said Roy Morgan's Industry Communications Director, Norman Morris.
"There is a strong indication that the major improvement in customer satisfaction with banks over this period is likely to have contributed to this positive trend in 'share of wallet'."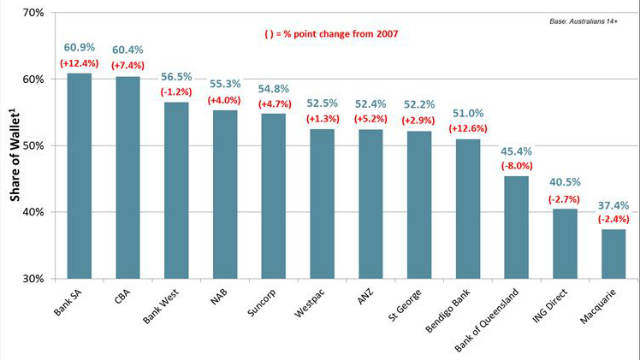 Top Australian banks for 'share of wallet' (Source: Roy Morgan)
Top quintile of customers have a huge impact
Banks tend to have a high share of wallet among less wealthy Australians, but it's still our wealthiest citizens that financial institutions are most concerned about.
According to McCrindle research, the richest 20% of Australians now own a whopping 62% of the nation's private wealth, and are on average 71 times wealthier than the poorest 20% of our population.
This means that the top quintile (i.e. top 20%) has a disproportionate effect on banks' profits.
Increasing share of wallet amongst this top quintile is a big priority, especially since they own nearly three quarters (74.2%) of the value of all banking products.
The best 'share of wallet' performers overall were also the best at managing the top quintile's money.
BankSA had a 60.3% share of wallet in the top quintile, followed by CBA (58.1%) and Bankwest (56.0%).
"This research has shown that in order to maximise the value to banks obtained from each of their customers, it is necessary to increase and track 'share of wallet', particularly in the higher value segment," Mr Morris said.
"The advantage of using 'share of wallet' is that it is the best behavioural metric for measuring brand loyalty.
"The challenge now is to maintain this momentum by improving the proportion of 'very satisfied' customers in the high value (top quintile) segment, as they are not only likely to then become strong advocates for their bank but have the most potential to increase their 'share of wallet'.
"There remains considerable opportunity for banks to increase business with their existing customers, as they are currently only capturing around half of what is possible."