You may be on top of your mortgage payments at the moment, but would a rate increase place you in hot water?
New data from Digital Finance Analytics shows that for 1 in 5 owner occupiers with a mortgage, hot water is exactly where they'd be.
The research firm used data from their household surveys to examine "how sensitive households with an owner occupied mortgage are to an interest rate rise".
The research is pertinent because Digital Finance Analytics predicts mortgage rates will rise "over the next few months" due to a number of factors including higher funding costs and competitive dynamics. Some of the major banks, including NAB, have already begun to increase the interest rates on some of their home loan products.
Who's at risk of mortgage stress?
To ascertain various household's sensitivity to a rate change, Digital Finance Analytics examined how much headroom they had for rising rates by taking into account:
Their income
The size of their mortgage
Whether they had paid ahead
Other financial commitments
That information was then used to ascertain the point at which different households would cross the mortgage stress threshold; and for many households, it's not too far to that threshold. The chart below shows households distributed according to the point at which they'd encounter mortgage stress.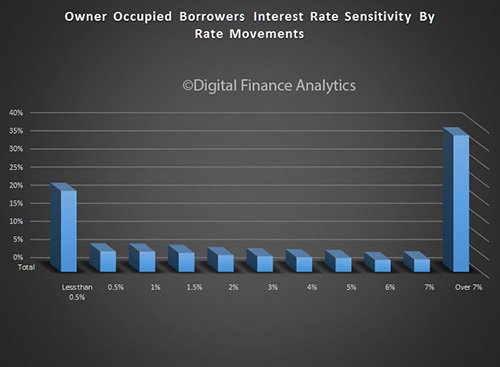 Source: Digital Finance Analytics
The chart shows that a huge 20% of owner-occupiers with mortgages may not be able to afford their home loan repayments if interest rates creep up by less than half a percentage point (0.5%). To put it bluntly, that's some seriously bad news. Only a little over a third of homeowners could cope with a 7% rise in interest rates.
What kind of households are most at risk?
Breaking the data down further by household segment, it can be seen that young growing families and young affluent households were most at risk when it came to potential rate increases, however other segments, including the suburban mainstream, were also highly exposed to risk.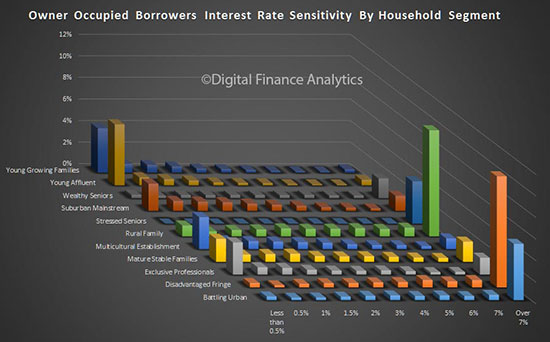 Source: Digital Finance Analytics
According to Digital Finance Analytics, younger households are more at risk "because their incomes tend to be more limited and are not growing in real terms relative to mortgage repayments."
The disaster that's just waiting to happen
Speaking to NewsCorp, Digital Finance Analytics Principal Martin North described the results as concerning, but not a surprise.
"If you look at what people have been doing, people have been buying into property because they really believe that it is the best investment," North said.
"Property prices are rising and interest rates are very low, which means they are prepared to stretch as far as they can to get into the market."
However the combination of interest rates being likely to increase and wages being likely to stay where they are is a dangerous one, and Mr North is especially concerned by this.
"If you go back to 2005, before the GFC, people got out of jail because their incomes grew a lot faster than house prices, and therefore mortgage costs. But the trouble is that this time around we are not seeing any evidence of real momentum in income growth," North said.
"My concern is a lot of households are quite close to the edge now — they are not going to get out of jail because their incomes are going to rise. We are in a situation where interest rates are likely to rise irrespective of what the RBA does … There has already been movement up."
The grim bottom line is that interest rates could rise soon, and when they do, many of us will be ill-equipped to deal with it. It may be time to start figuring out what expenses you can afford to cut, otherwise you might end up losing your home.