Commonwealth Bank customers could now be eligible for a refund of any fees and charges they incurred after last week's network crash.
A network outage left millions of Commonwealth Bank (CBA) customers unable to make payments or access their money last Thursday, while some had to wait several days for funds such as salaries to clear.
Today, the bank again apologised to customers who were affected by the delay in payments and said it believes funds should now be in customer accounts.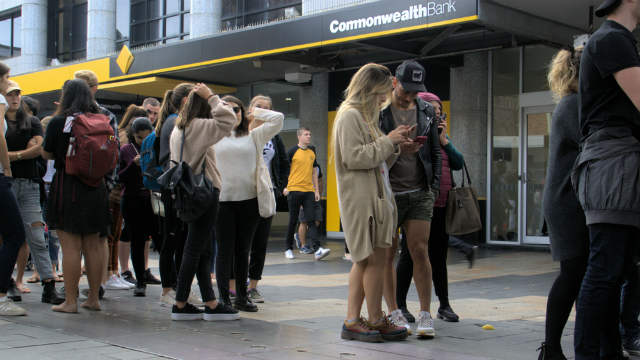 "Following the outage impacting our systems in recent days, we have made significant progress in processing the outstanding payments," CBA said on its website today.
"We apologise to everyone who has been affected by the delay in payments and we are very sorry for the inconvenience it has caused."
The bank was still trying to get payments processed yesterday, four days after the initial outage.
Many customers took to social media platforms over the past few days to vent their frustration. Complaints included that they were unable to pay for fuel at the petrol bowser, unable to transfer money, still hadn't received their wages and were charged late payment fees due to insufficient funds in accounts at the time of the outage.
"We are now refunding fees and charges associated to the network issue on Thursday for our customers who were impacted by this issue," CBA told customers on Twitter today.
Will you reimburse late payment fees to your customers due to insufficient funds automatically or are you expecting customers to chase you for fees due to your inefficiency?

— amyuli (@amyuliyuli) October 21, 2019
The bank advised customers to call or visit a branch if they were still experiencing any issues.
(1/2) Update 10.00AM. We now believe funds should be in customer accounts. If anyone has any issues or questions regarding their payments please contact 132221 or visit us in branch so we can assist.

— CommBank (@CommBank) October 21, 2019
CBA's systems started to recover in the early hours of Friday morning after they had crashed around midday on Thursday, due to an issue triggered by a scheduled technology upgrade.
The timing of that infrastructure upgrade on a Thursday – when a high number of employers do their payroll runs – has been criticised.
In May, the Payment System Board (PSB) – whose members include the heads of the Reserve Bank of Australia (RBA) and the Australian Prudential Regulation Authority (APRA) – discussed operational outages in retail payments across financial institutions.
The Board found there had been an increase in disruptions in the past year and gave the go-ahead for the RBA to work with APRA to develop a standard set of performance statistics that each individual bank would have to disclose.
In its annual report last week, the PSB confirmed these statistics would be publicly available, stating that the measure was designed to "strengthen transparency and market discipline".
According to iTnews, regulators have already started requesting banks submit data on their outages, such as downtime, services affected, severity and what caused the issue.
Image source: ArliftAtoz2205 (Shutterstock)