Canstar researches and rates 12 travel money cards, revealing which ones give travellers the best bang for their buck
Aussies love to travel, taking more than 800,000 short-term overseas trips per month. Travel money cards, which give travellers the ability to lock in an exchange rate before they leave, can go a long way to helping keep holiday costs under control.
"Essentially a travel money card is a debit card,with the same chip and PIN protection. It's not connected to your other bank accounts though. It can be an easy and secure way to carry multiple currencies in your wallet," said Cansatr Editor in Chief, Justine Davies.
11 out of 12 travel money cards researched by Canstar offer 10 currencies or more, but some offer as many as 14 currencies or as few as 5 currencies. The table below shows which cards offer which currencies at the time of writing: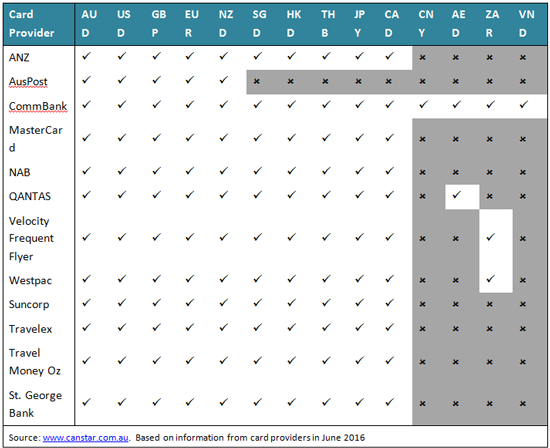 Be aware of the exchange rate
The exchange rate offered by travel money cards can differ, and represents a hidden profit margin. For travellers, not paying attention to the exchange rate can eat into your spending money.
"Based on the US dollar exchange rates offered by the cards we researched, someone loading $6,000 of Australian money could receive as much as $4,339 US dollars or as little as $4,270. That's $69 that's better in your own pocket."
Which cards offer outstanding value?
Canstar has analysed cost and features of 12 travel money cards and has awarded a 5 star rating for Outstanding Value to:
NAB – Traveller Card
Travelex – Cash Passport
Here is how the five star-rated cards compare across some of the main categories.
Travelex Cash Passport
NAB Traveller Card
Maximum number of currencies that can be loaded at one time
10
10
Card life from time of activation
5 years
5 years
24/7 global emergency assistance
Yes
Yes
Emergency card replacement – urban areas
3 days
3 – 7 days
Can purchase card online?
Yes
No
Card scheme
Mastercard
Mastercard
Does the card include a contactless feature, such as tap and go?
No
No
What is the max length of time that a hotel authorisation can remain on the card?
30 days
30 days
What is the max length of time that a car hire authorisation can remain on the card?
30 days
30 days
Is a specific mobile application available to manage the account?
Yes
Yes
Maximum balance allowed on the card over a 12 month period
$100,000
$45,000
Minimum amount required to be loaded or reloaded each time?
$100
$50
Card loading fee
Nil
Nil
Cash over the counter fee
$10
n/a
Fee for card closure
$10
Nil
Monthly inactivity fee
$4
Nil
Source: Canstar.com.au. As advised by product providers, June 2016.
"It is fantastic to see competition in the market, which gives travellers a genuine choice of outstanding-value providers," said Justine Davies.
Canstar's travel money cards star ratings are an invaluable starting point for savvy travellers.
Ph. (07) 3837 4151 / 0400 127 733
Canstar provides Australia's interactive online research service in consumer and business finance. Founded in 1992, Canstar Pty Limited is Australia's researcher of retail finance information for over 250 institutions such as Banks, Building Societies, Credit Unions, Finance Companies, Brokers, Mortgage Originators, Life Companies and finance related Internet Portals. Canstar customers use the extensive database for competitor analysis as well as a means of disseminating their product range. Canstar also distributes this information to print and electronic media for publication and to Agents, Accountants, Brokers and Internet Portals for use in advising their clients.
What are the Canstar star ratings?
Canstar researches, compares and rates the suite of banking and insurance products listed below. Results are freely available to consumers who use the star ratings as a guide to product excellence. The use of similar star ratings logos also builds consumer recognition of quality products across all categories. Please access the Canstar website at www.canstar.com.au if you would like to view the latest star ratings reports of interest.
| | |
| --- | --- |
| Account based pensions | Managed investments |
| Agribusiness | Margin lending |
| Business banking | Online banking |
| Business life insurance | Online share trading |
| Car insurance | Package banking |
| Credit cards | Personal loans |
| Deposit accounts | Reward programs |
| Direct life insurance | Superannuation |
| First home buyer | Term deposits |
| Health insurance | Travel insurance |
| Home & Contents | Travel money card |
| Home loans | Youth banking |
| Life insurance | |
COMPLIANCE DISCLOSURE and LIABILITY DISCLAIMER
To the extent that the information in this report constitutes general advice, this advice has been prepared by Canstar Research Pty Ltd A.C.N. 114 422 909 AFSL and ACL 437917 ("Canstar"). The information has been prepared without taking into account your individual investment objectives, financial circumstances or needs. Before you decide whether or not to acquire a particular financial product you should assess whether it is appropriate for you in the light of your own personal circumstances, having regard to your own objectives, financial situation and needs. You may wish to obtain financial advice from a suitably qualified adviser before making any decision to acquire a financial product. Canstar provides information about credit products. It is not a credit provider and in giving you information it is not making any suggestion or recommendation to you about a particular credit product. Please refer to Canstar's FSG for more information.

The information in this report must not be copied or otherwise reproduced, repackaged, further transmitted, transferred, disseminated, redistributed or resold, or stored for subsequent use for any purpose, in whole or in part, in any form or manner or by means whatsoever, by any person without Canstar's prior written consent. All information obtained by Canstar from external sources is believed to be accurate and reliable. Under no circumstances shall Canstar have any liability to any person or entity due to error (negligence or otherwise) or other circumstances or contingency within or outside the control of Canstar or any of its directors, officers, employees or agents in connection with the procurement, collection, compilation, analysis, interpretation, communication, publication, or delivery of any such information. Copyright 2014 Canstar Research Pty Ltd A.C.N. 114 422 909

The word "Canstar", the gold star in a circle logo (with or without surmounting stars), are trademarks or registered trademarks of Canstar Pty Ltd. Reference to third party products, services or other information by trade name, trademark or otherwise does not constitute or imply endorsement, sponsorship or recommendation of Canstar by the respective trademark owner.