Canstar releases the 2016 Online Share Trading Award & Star Ratings report, investigating 42 platforms offered by 17 providers.
Average brokerage costs fall across all investment amounts over past 12 months
Investors demanding sophisticated online functionality
The environment for online share trading platforms is increasingly competitive and for investors this results in the dual benefit of lower trading prices and ever-improved online functionality.
"Consumer behaviour, the economy and technology advancements are all contributing to the changing landscape in the online share trading industry," said Canstar General Manager – Wealth, Josh Callaghan.
"Consumers have become accustomed to using their mobile devices to research and buy everything from a $500 television to a $500,000 home loan and they expect the same functionality from their online share trading platform. The rise of fintech has put powerful tools into the hands of investors in the form of research, reporting and investment ideas. As a result, online share trading platforms have had to look at ways of incorporating some of those new features into their platform in an attempt to retain customers. At the same time they have also had to sharpen their pricing. Investors really are getting more for less now."
Trading prices
The cost of brokerage is a fundamental element of online share trading and the good news for consumers is that the average cost per trade continues to fall for both high-value and low-value trades alike.
As the table below details, the average cost of placing a $100,000 trade has fallen by an average of just over $8 over the past seven years, representing a decrease of 7.76%. The cost of placing a $5,000 trade has also fallen – more modestly in dollar terms (a $6.99 decrease) but more substantially in percentage terms (a 27.74% decrease).
Trade Value
Average Brokerage 2010
Average Brokerage 2015
Average Brokerage 2016
Change in Average Brokerage over 7 years*
Brokerage Cost as a % of Investment
$5,000
$25.20
$19.15
$18.21
-27.74%
0.36%
$10,000
$25.75
$20.08
$19.09
-25.87%
0.19%
$25,000
$30.22
$27.54
$26.11
-13.62%
0.10%
$50,000
$54.04
$50.71
$49.65
-8.12%
0.10%
$100,000
$104.49
$96.48
$96.38
-7.76%
0.10%
Source: Canstar * Based on the average Online Brokerage Fee of the platforms considered for Online Share Trading star ratings in March 2010, May 2011, March 2012, March 2013, March 2014, March 2015, and March 2016.
What investors want
Based on the search data of more than 11,000 visitors to Canstar's comparison tables in the first few months of this year, it's apparent that share traders want to be able to trade anytime, anywhere. Traders want access via internet or phone, but they also want email support to be available.
Nearly 1 in 3 traders indicated that they were looking for a dynamic trading platform and more than one in three are looking for live pricing. Daily market reports are also highly valued.
"The historically low interest rate environment coupled with a large base of retirees has forced a number of them to look beyond traditional cash investments and into equities," said Mr Callaghan.
"This provides the challenge for online share traders to find the balance between education rich, easy-to-use solutions with the high end features that traders expect. In practicality, this has drawn a line down the middle of the industry with some targeting the mum and dad investors and others focused on the trader. Some offer a range of platforms to suit all types of investor."
CMC Markets makes it 6 years in a row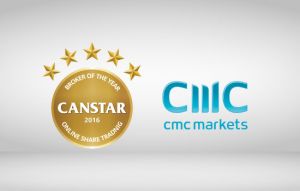 Staying ahead of the pack in the current era of fintech challengers and increased investor expectation is no small feat; CMC Markets has achieved this feat for an impressive six year in a row, once again taking the Canstar Online Share Trading – Broker of the Year Award and receiving a 5 star rating for Outstanding Value in all investor profiles assessed by Canstar.
"CMC have once again proven that they are the industry benchmark when it comes to offering an outstanding value online share trading platform," said Canstar Head of Research, Mitchell Watson.
"This is the sixth year in a row in which CMC has achieved our overall Outstanding Value Online Share Trading award. They have been able to achieve this by offering platforms that are suitable for a casual trader right through to a day trader. Their offering is complimented by low brokerage rates which tier down as an investor trades.
"Through the CMC platform investors can gain access to a large number of charting options, company research, functions that assist with tax reporting and for those starting out a list of education material and options to help them on their investment journey."
Responding to the Award, Andy Rogers, Head of Stockbroking at CMC Markets said that each year investors are demanding best value coupled with greater online functionality.
"Our premium online trading platform has redefined the Australian online share trading market and set new industry standards across technology, in addition to customer service and value," he said.
"Each year investor expectations continue to increase. They consistently tell us that they enjoy using new features such as advanced conditional orders such as trailing take profit/stop loss because they provide them with a competitive edge."
According to Mr Rogers, some of the most popular online resources on the CMC Markets share trading platform are the Morningstar quantitative equity reports and theScreener equity reports with star & risk ratings.
"Having multiple sources of information for clients to review and cross reference means they feel more confident about validating their investment and trading decisions," he said.
Responding to customer demand, Mr Rogers said that CMC Markets is introducing a new mobile app in the third quarter of this year, to complement its existing Stockbroking and Pro platforms. Built in-house, the new mobile app will enhance the current offering to clients who want the flexibility to trade from their mobile.
Outstanding Value platforms
In addition to the overall national Award, Canstar has awarded other specific platforms a 5 star rating for Outstand Value in various consumer categories. The platforms and providers that have achieved a 5 star rating are as follows:
CommSec Share Trades Internet Preferred
Westpac Integrated Account
CMC Markets Classic Account
Westpac Integrated Account
CMC Markets Classic Account
CMC Markets Classic Account
CMC Markets Premium Trader Account
Finance Editor & Commentator
Canstar provides Australia's interactive online research service in consumer and business finance. Founded in 1992, Canstar Pty Limited is Australia's researcher of retail finance information for over 250 institutions such as Banks, Building Societies, Credit Unions, Finance Companies, Brokers, Mortgage Originators, Life Companies and finance related Internet Portals. Canstar customers use the extensive database for competitor analysis as well as a means of disseminating their product range. Canstar also distributes this information to print and electronic media for publication and to Agents, Accountants, Brokers and Internet Portals for use in advising their clients.
What are the Canstar star ratings?
Canstar researches, compares and rates the suite of banking and insurance products listed below. Results are freely available to consumers who use the star ratings as a guide to product excellence. The use of similar star ratings logos also builds consumer recognition of quality products across all categories. Please access the Canstar website at www.canstar.com.au if you would like to view the latest star ratings reports of interest.
| | |
| --- | --- |
| Account based pensions | Managed investments |
| Agribusiness | Margin lending |
| Business banking | Online banking |
| Business life insurance | Online share trading |
| Car insurance | Package banking |
| Credit cards | Personal loans |
| Deposit accounts | Reward programs |
| Direct life insurance | Superannuation |
| First home buyer | Term deposits |
| Health insurance | Travel insurance |
| Home & Contents | Travel money card |
| Home loans | Youth banking |
| Life insurance | |
COMPLIANCE DISCLOSURE and LIABILITY DISCLAIMER
To the extent that the information in this report constitutes general advice, this advice has been prepared by Canstar Research Pty Ltd A.C.N. 114 422 909 AFSL and ACL 437917 ("Canstar"). The information has been prepared without taking into account your individual investment objectives, financial circumstances or needs. Before you decide whether or not to acquire a particular financial product you should assess whether it is appropriate for you in the light of your own personal circumstances, having regard to your own objectives, financial situation and needs. You may wish to obtain financial advice from a suitably qualified adviser before making any decision to acquire a financial product. Canstar provides information about credit products. It is not a credit provider and in giving you information it is not making any suggestion or recommendation to you about a particular credit product. Please refer to Canstar's FSG for more information.
The information in this report must not be copied or otherwise reproduced, repackaged, further transmitted, transferred, disseminated, redistributed or resold, or stored for subsequent use for any purpose, in whole or in part, in any form or manner or by means whatsoever, by any person without Canstar's prior written consent. All information obtained by Canstar from external sources is believed to be accurate and reliable. Under no circumstances shall Canstar have any liability to any person or entity due to error (negligence or otherwise) or other circumstances or contingency within or outside the control of Canstar or any of its directors, officers, employees or agents in connection with the procurement, collection, compilation, analysis, interpretation, communication, publication, or delivery of any such information. Copyright 2014 Canstar Research Pty Ltd A.C.N. 114 422 909. The word "Canstar", the gold star in a circle logo (with or without surmounting stars), are trademarks or registered trademarks of Canstar Pty Ltd. Reference to third party products, services or other information by trade name, trademark or otherwise does not constitute or imply endorsement, sponsorship or recommendation of Canstar by the respective trademark owner.