CANSTAR releases results of car insurance claims satisfaction survey
The easier it is to claim, the more satisfied we're likely to be
Financial research and ratings group CANSTAR has released the results of a 3,130-person consumer survey into the motor vehicle insurance claims experience of drivers, to determine how satisfied we are with the experience. And the message for insurers is that the easier the claims process is the more satisfied customers are likely to be.
"Our survey questions drivers, who have had an accident and have claimed on their car insurance at some point in the last three years, on their level of satisfaction with different elements of the claiming process including the speed, the quality of repairs, the overall claims process, the ease of claiming and the level and quality of communication with their insurer," said CANSTAR Group Manager, Research, Mitchell Watson.
"The good news for car insurers is that, by and large, those claiming on their policies are happy with the service they receive, with 36 percent being satisfied and another 44 percent being very satisfied. And that's good news for drivers as well, because it's only when you have an accident that you discover the real value of your insurance company," said Mr. Watson.
We're appy
Across all the factors of an insurance claim surveyed, the thing that drivers were most likely to be very satisfied with was ease of the claims process.
"If you have just had a car accident then you're likely to be a bit shaken up, a bit flustered," said Mr. Watson.
"So it does stand to reason that if your insurer can make the claims process easy, you're going to have a better experience. Given the high rate of smartphone ownership in Australia, a smartphone app can be a terrific way to help drivers step through the claims process, from taking photos, to recording what happened, to knowing what details they need to collect from anyone else involved in the accident."
Across the 63 insurance policies surveyed:
16 allow claims to be made via mobile app
37 allow claims to be made online
 57 provide a 24 hour helpline
Suncorp Insurance takes the Award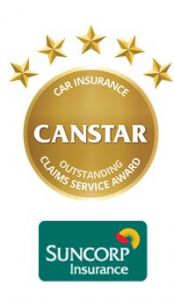 Taking out CANSTAR's 2016 Car Insurance – Outstanding Value Claims Service award this year was Suncorp Insurance.
"Suncorp offers an easy to use smartphone claims app and also offers a 24 hour helpline," said Mr Watson.
"Suncorp also received an impressive level of satisfied and very satisfied customers across their speed of response, quality and timeliness of the repairs and how well they communicated with the claimant during the process."
CANSTAR congratulates Suncorp on its achievement.
For further information:
Justine Davies
Finance Editor & Commentator
Ph. (07) 3837 4151
About CANSTAR
CANSTAR provides Australia's interactive online research service in consumer and business finance. Founded in 1992, CANSTAR Pty Limited is Australia's researcher of retail finance information for over 250 institutions such as Banks, Building Societies, Credit Unions, Finance Companies, Brokers, Mortgage Originators, Life Companies and finance related Internet Portals. CANSTAR customers use the extensive database for competitor analysis as well as a means of disseminating their product range. CANSTAR also distributes this information to print and electronic media for publication and to Agents, Accountants, Brokers and Internet Portals for use in advising their clients.
What are the CANSTAR star ratings?
CANSTAR researches, compares and rates the suite of banking and insurance products listed below. Results are freely available to consumers who use the star ratings as a guide to product excellence. The use of similar star ratings logos also builds consumer recognition of quality products across all categories. Please access the CANSTAR website at www.canstar.com.au if you would like to view the latest star ratings reports of interest.
| | |
| --- | --- |
| Account based pensions | Managed investments |
| Agribusiness | Margin lending |
| Business banking | Online banking |
| Business life insurance | Online share trading |
| Car insurance | Package banking |
| Credit cards | Personal loans |
| Deposit accounts | Reward programs |
| Direct life insurance | Superannuation |
| First home buyer | Term deposits |
| Health insurance | Travel insurance |
| Home & Contents | Travel money card |
| Home loans | Youth banking |
| Life insurance | |
COMPLIANCE DISCLOSURE and LIABILITY DISCLAIMER
To the extent that the information in this report constitutes general advice, this advice has been prepared by CANSTAR Research Pty Ltd A.C.N. 114 422 909 AFSL and ACL 437917 ("CANSTAR").  The information has been prepared without taking into account your individual investment objectives, financial circumstances or needs.   Before you decide whether or not to acquire a particular financial product you should assess whether it is appropriate for you in the light of your own personal circumstances, having regard to your own objectives, financial situation and needs.  You may wish to obtain financial advice from a suitably qualified adviser before making any decision to acquire a financial product.  CANSTAR provides information about credit products. It is not a credit provider and in giving you information it is not making any suggestion or recommendation to you about a particular credit product.  Please refer to Canstar's FSG for more information.
The information in this report must not be copied or otherwise reproduced, repackaged, further transmitted, transferred, disseminated, redistributed or resold, or stored for subsequent use for any purpose, in whole or in part, in any form or manner or by means whatsoever, by any person without CANSTAR's prior written consent. All information obtained by CANSTAR from external sources is believed to be accurate and reliable. Under no circumstances shall CANSTAR have any liability to any person or entity due to error (negligence or otherwise) or other circumstances or contingency within or outside the control of CANSTAR or any of its directors, officers, employees or agents in connection with the procurement, collection, compilation, analysis, interpretation, communication, publication, or delivery of any such information. Copyright 2014 CANSTAR Research Pty Ltd A.C.N. 114 422 909
The word "CANSTAR", the gold star in a circle logo (with or without surmounting stars), are trademarks or registered trademarks of CANSTAR Pty Ltd.   Reference to third party products, services or other information by trade name, trademark or otherwise does not constitute or imply endorsement, sponsorship or recommendation of CANSTAR by the respective trademark owner.