CANSTAR releases its annual International Money Transfer Star Ratings report, with Citi, World First and OFX achieving 5 stars.
The very many Australians who need to transfer funds overseas could be losing a significant chunk of their money if they don't compare the exchange rates on offer. Financial research and comparison site CANSTAR recently collected the exchange rates being offered by both Approved Deposit Institutions (ADIs) and non-ADIs across a number of currencies and found that for a $100,000 transfer of Australian dollars to another country, the difference between the highest and lowest quoted exchange rates over that period equated to 2,616 Euros, 2,276 British Pound and 2,888 US Dollars.
"I think some consumers can get lulled into a sense of complacency, perhaps thinking that the value of the Australian dollar that's quoted on the nightly news is the value that they're going to get when they exchange money," said CANSTAR Group Manager, Research and Ratings, Mitchell Watson.
"Essentially though, that's the wholesale rate. The rate that you as a customer receive depends on the margin being charged by the provider. Whether you're transferring money to a family member overseas, conducting a business, paying for a holiday or buying a luxury item, small differences in exchange rate can make a big diffrence to the costs so it's worth comparing options."
CANSTAR's research found that across nine popular currencies, the potential cash-in-hand difference between the highest and lowest quoted rates were as follows:
Currency
Highest Quoted Rate (Selling Rate)
Lowest Quoted Rate (Selling Rate)
Difference on a $100,000 transfer
EUR
0.664
0.638
2,616 EUR
GBP
0.567
0.544
2,276 GBP
USD
0.749
0.720
2,888 USD
CHF
0.725
0.692
3,310 CHF
HKD
5.806
5.567
23,881 HKD
INR
50.026
47.996
202,943 INR
JPY
75.885
72.221
366,362 JPY
NZD
1.024
0.994
2,965 NZD
SGD
1.010
0.972
3,869 SGD
NB: The exchange rates for the 19 institutions in our rating are captured over 4 weeks and then averaged over the prescribed period (15 August 2016 to 8 September 2016)
Source: www.canstar.com.au
Mr Watson warned that it's easy for those exchanging or transferring money overseas to be attracted by a low fee and forget about the exchange rate.
"Fees in the international money transfer area are very competitive," he said.
"Online sending fees, for example, range from zero to $30 per transaction, based on the institutions we have researched. But saving that $30 fee could be a false economy if the exchange rate is sub-standard."
WHICH ORGANISATIONS OFFER OUTSTANDING VALUE?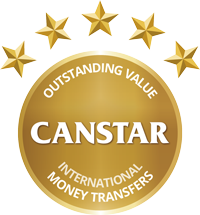 CANSTAR's 2016 International Money Transfer Star Ratings has awarded a five star rating for outstanding value to three institutions: Citi, OFX and World First.
"All three institutions offer very competitive exchanges rates, which is all-important for smart transactors," said Mr Watson.
"The also offer real-time online currency quotes, online calculators, 24 hour service and a wide range of currencies. All three providers offer online and via phone service, Citi also offers in-branch service. Citi's currency range is more limited than the other two providers though."
Responding to the award Andrew Porter, Managing Director Australia, World First said that people are often making life-changing purchases when they transfer large sums of money and should be concerned about the exchange rate and any associated fees.
"I am thrilled that World First has been formally recognised by CANSTAR for our approach of putting customers first and offering exceptional exchange rates. Transparency, service and value are the essence of what we provide and to be rated 5 stars is a real testament to not just what we do, but how we do it," he said.
At OFX, Head of Australia and New Zealand Scott Redmond acknowledges that times are changing. "There are a number of new players in the market, so customers should expect a higher level of service and seek out a provider with a robust platform that can function in times of turmoil like Brexit."
Responding to the award, he said, "Our entire business is built around facilitating the extraordinary lives of our customers, and it's an honour to be recognised by CANSTAR. This award validates that our customers are making smarter money transfers by using OFX, and we'll continue to deliver on that promise by innovating in all aspects of our business."
CANSTAR provides Australia's interactive online research service in consumer and business finance. Founded in 1992, CANSTAR Pty Limited is Australia's researcher of retail finance information for over 250 institutions such as Banks, Building Societies, Credit Unions, Finance Companies, Brokers, Mortgage Originators, Life Companies and finance related Internet Portals. CANSTAR customers use the extensive database for competitor analysis as well as a means of disseminating their product range. CANSTAR also distributes this information to print and electronic media for publication and to Agents, Accountants, Brokers and Internet Portals for use in advising their clients.
What are the CANSTAR star ratings?
CANSTAR researches, compares and rates the suite of banking and insurance products listed below. Results are freely available to consumers who use the star ratings as a guide to product excellence. The use of similar star ratings logos also builds consumer recognition of quality products across all categories. Please access the CANSTAR website at www.canstar.com.au if you would like to view the latest star ratings reports of interest.
| | |
| --- | --- |
| Account based pensions | Managed investments |
| Agribusiness | Margin lending |
| Business banking | Online banking |
| Business life insurance | Online share trading |
| Car insurance | Package banking |
| Credit cards | Personal loans |
| Deposit accounts | Reward programs |
| Direct life insurance | Superannuation |
| First home buyer | Term deposits |
| Health insurance | Travel insurance |
| Home & Contents | Travel money card |
| Home loans | Youth banking |
| Life insurance | |

COMPLIANCE DISCLOSURE and LIABILITY DISCLAIMER
To the extent that the information in this report constitutes general advice, this advice has been prepared by CANSTAR Research Pty Ltd A.C.N. 114 422 909 AFSL and ACL 437917 ("CANSTAR"). The information has been prepared without taking into account your individual investment objectives, financial circumstances or needs. Before you decide whether or not to acquire a particular financial product you should assess whether it is appropriate for you in the light of your own personal circumstances, having regard to your own objectives, financial situation and needs. You may wish to obtain financial advice from a suitably qualified adviser before making any decision to acquire a financial product. CANSTAR provides information about credit products. It is not a credit provider and in giving you information it is not making any suggestion or recommendation to you about a particular credit product. Please refer to Canstar's FSG for more information.
The information in this report must not be copied or otherwise reproduced, repackaged, further transmitted, transferred, disseminated, redistributed or resold, or stored for subsequent use for any purpose, in whole or in part, in any form or manner or by means whatsoever, by any person without CANSTAR's prior written consent. All information obtained by CANSTAR from external sources is believed to be accurate and reliable. Under no circumstances shall CANSTAR have any liability to any person or entity due to error (negligence or otherwise) or other circumstances or contingency within or outside the control of CANSTAR or any of its directors, officers, employees or agents in connection with the procurement, collection, compilation, analysis, interpretation, communication, publication, or delivery of any such information. Copyright 2014 CANSTAR Research Pty Ltd A.C.N. 114 422 909. The word "CANSTAR", the gold star in a circle logo (with or without surmounting stars), are trademarks or registered trademarks of CANSTAR Pty Ltd. Reference to third party products, services or other information by trade name, trademark or otherwise does not constitute or imply endorsement, sponsorship or recommendation of CANSTAR by the respective trademark owner.