Are you considering speaking to a financial adviser about getting
life insurance
? Canstar has just released the award-winning life insurance policies for 2017.
How Canstar rates the winning life insurance providers
Every year, Canstar researches and rates each of the life insurance policies offered across Australia that meet the following minimum eligibility criteria:
Must be available to the consumer via an adviser
Body Mass Index (BMI) is not required when requesting a quote
Eligibility for the product is not conditional on ongoing health checks
Cover is for sickness and accident
Features and premium information is provided directly to Canstar
For comparison purposes, quotes must be available:
For all occupations considered within each occupational category
At each specified cover amount
For every age considered within each age group
Using our sophisticated research methodology, Canstar identifies the life insurance policies that offer outstanding value to Australians looking to secure their family's future in the event of their death. After assessing each policy on their price and feature offerings, Canstar Research has identified the following 5 winners:
ClearView – National Award, Term Life, TPD, Income Protection, Trauma
Zurich – National Award, Term Life, TPD, Packaged Life Insurance
AIA Australia – Trauma
TAL – Income Protection
MLC Insurance – Packaged Life
Outstanding Value Winners – Life Insurance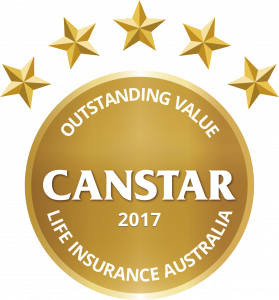 ClearView


ClearView is a life insurance provider that specialises in life insurance, superannuation and retirement. ClearView started out as NRMA Life in 1976. After a few changes of shareholders, they have been listed as ClearView on the ASX since 2010, offering financial advice and a portfolio of insurance and investment.
ClearView has retained their Award for Outstanding Value Life Insurance from 2016 after a consistently strong performance across all cover types considered. In addition to taking out the overall Life Insurance Australia Award for 2017, ClearView has retained the award for Outstanding Value Income Protection and has also received the award for Outstanding Value for Trauma Insurance and Term Life Insurance, as well as TPD Insurance for the fifth year running.
The key drivers of this performance were ClearView's competitive pricing, which has been further strengthened by the removal of their $90 annual policy fee. ClearView has also continued their strength in features for TPD cover, Income Protection and Trauma cover, giving a balanced product offering all-round.
Zurich


Zurich Australia began in 1920 as the Commonwealth General Assurance Corporation and now operates in more than 170 countries, employing more than 1,200 people in Australia alone. As a general insurance provider, they offer business insurance, travel insurance and superannuation, as well as life insurance. Zurich is a proud winner of Canstar's Outstanding Value Life Insurance Award in 2017.
Zurich has received another award this year on the back of a standout performance for term life, TPD and packaged life insurance. Zurich has provided Outstanding Value Term Life insurance for two years in a row, Packaged Life Insurance for three years in a row and TPD Life Insurance for five years in a row. These wins followed an improvement in their multi-policy discounts and a drop in their term life and TPD premiums.
AIA Australia is a leading life insurance provider, offering a comprehensive suite of products to more than three million Australians. Backed by the AIA Group in Hong Kong, AIA has more than 40 years' experience in financial advice and has consistently been recognised as an industry leader in these fields.
AIA Australia has received the award for Outstanding Value Trauma Insurance for the fourth time in the last five years after outperforming the market average across all age groups considered, leading the market for those in their fifties. This was largely due to AIA's strength in product features, with scores exceeding the market average for all feature categories considered, and their market-leading standard company terms.
TAL


TAL is a specialist provider of life insurance, as well as superannuation and investment products. TAL was first founded in 1869, meaning they have more than 140 years of experience providing for Australian families. Currently, 3.7 million Australians trust in TAL, and they now pay close to $1.4 billion in claims a year.
This year, TAL has received the award for Outstanding Value Income Protection for the fifth consecutive year, following a very modest increase in premiums from last year, in comparison to other providers.
TAL has the lowest premiums on the market for five white collar profiles out of the 64 profiles considered in this year's research, and combined with a strong feature offering with scoring at or above the market average in all categories considered, they are a worthy winner of this year's award.
MLC Insurance


MLC is a provider of life insurance, as well as income protection insurance, business insurance, superannuation, investment products and financial advice. MLC was founded in 1886 and is now one of Australia's largest personal insurance providers, serving 1.7 million customers across the country.
MLC was a winning provider of Packaged Life Insurance in 2016 and is so again this year, given an above-average performance for all occupational categories and each age group considered for the award. In each age group and occupational category considered, MLC's premiums were below the market average, while their feature offerings for income protection and term life cover in particular scored above the market average for all categories.
Find good value life insurance with Canstar
Most people don't really like to think about getting life insurance. But it is an extremely useful consideration, as life insurance can lessen or prevent financial trauma on top of the emotional trauma your loved ones would experience in the instance of your death..
If you're considering life insurance for your family, Canstar can help you find the right policy. In addition to the five winning providers in this article, there are dozens more providers of life insurance that can be obtained via an adviser or directly from the provider that can match your needs and ensure that your family will be cared for.