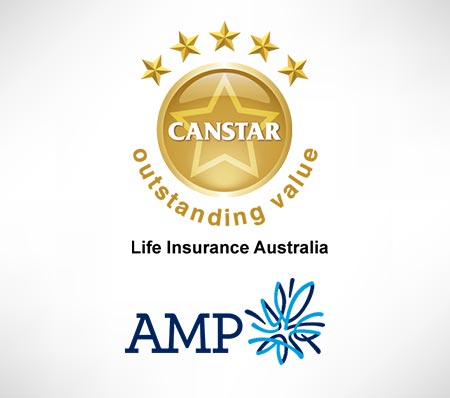 As a general rule, anything worth working for is worth protecting – and the Australian
life insurance
industry paid more than $7 billion in claims in 2014, according to the latest figures from the Australian Prudential Regulation Authority (APRA).
Every year, Canstar undertakes a mammoth research project to compare the products available to licensed financial advisers; this time around, we have researched products offered by 13 insurance giants across the spectrum of stand-alone term life insurance, trauma, TPD or disability insurance and income protection. Canstar assesses the combination of price and features to determine which insurers offer outstanding value for money for consumers; we are pleased to congratulate AMP for achieving the Outstanding Value award for term life cover.
We caught up with AMP's Acting Group Executive, Insurance and Superannuation, Megan Beer, for some insights into
Q: AMP paid more than $887.6 million in claims across its trauma, life, terminal illness, total and permanent disablement, and income protection insurance plans in 2014. Are claim payments on the rise? What particular type of cover is most frequently claimed?
A: We're in the business of paying claims. If something unexpected does happen, people don't want to worry about how to pay the bills or how to look after their loved ones.
There is no one type of cover that's most frequently claimed, but when thinking about insurance most people think about death cover. In recent years though, we?ve seen an increase in the payment of living benefits, such as income protection, which pays people a monthly benefit if they?re unable to work due to sickness or injury, and total and permanent disablement, which provides people with a lump sum payment if they become disabled and won't ever be able to work again.
There is some volatility year to year in the amount and type of claim payments, for example recently there's been a marked increase in claims for disability – both temporary and permanent.
As an insurer, AMP has recognised the role we need to play in not only helping our customers financially at claim time, but also helping them navigate a path back to health, wellbeing and meaningful work.
Q: What is the value that advisers add to the life insurance purchase process?
A: One of the key roles advisers play is helping people understand the different types of risks they need to manage and what an appropriate level of cover may be. People typically have a good understanding of the risk of death, but when the issue of disability is raised, many have not thought through the consequences of a significant disability and the financial burdens that this can create. Not only does the loss of income need to be covered, but additional costs for long term care related to the disability also need to be covered.
The value an adviser adds is not through telling a person what the right solution is, but helping the customer understand their own attitudes towards risks, what their real level of exposure to that risk is and what they would ideally like to occur should something unfortunate happen in their life.
Once the risks and needs are well understood, the adviser then can help find the best solution to meet these needs.
One of the most important roles advisers play in the lives of their clients is when the unexpected happens and they are facing and illness or injury. We know getting back to an active life, including good work where possible, can really help a person's recovery and financial advisers are an important part of the support process in helping people get back to their usual routines.
Q: You recently held a summit on the myths of growing old. What were the findings? Do they highlight the importance of having personal insurance for a longer period of time?
A: AMP recently hosted the New Old summit at AMP which brought together a number of leading business people and professionals in social services to discuss four common myths associated with ageing. We found health is a common theme in much of the myths around ageing, whether it be increased spending on pensions and healthcare or the impact of declining health on people?s capacity to work. The discussion offered some fresh thinking about how we reframe the debate on what it means to be an older Australian, and to live healthy, productive and satisfying lives well into old age.
Part of this is of course having a plan for how to protect you and your family, lifestyle and assets in case the "what if" becomes a reality. The summit highlighted that there are ongoing shifts in the circumstances and attitudes of our population and that there is a greater need for insurers to meet the needs of older Australians.
Australians' expectations of retirement has evolved. We have seen a growing ambition from Australians for their retirement – both in terms of its length and the quality of the retirement experience – and this is starting to be reflected in the length of time people hold insurance and also the amount of insurance they feel they need.
Q: A new Life Insurance Framework has been announced; do you expect this new framework to make much difference to consumers?
A: The changes are aimed at improving advice standards and building long-term consumer confidence in the profession so more people receive quality advice.
AMP strongly believes in the need for Australians to receive high quality advice and is a pioneer in not only lifting the standards for advice, but also increasing the access for all Australians to advice.
We believe this framework will assist in ensuring more Australians receive the advice they need to meet their financial and personal goals.