Sydney start-up Stake has announced it will offer zero brokerage fees for Australian investors trading in US equities, and plans to expand its service into Self Managed Super Fund (SMSF), Company and Trust accounts by October.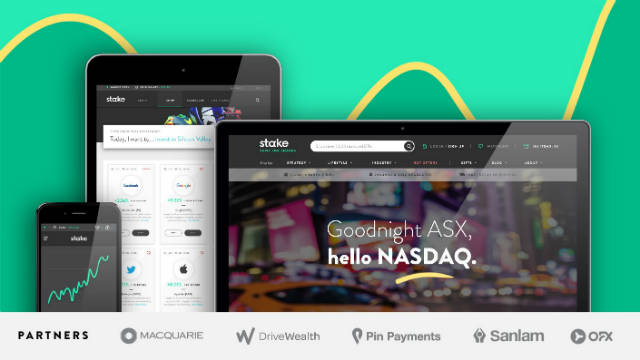 With its aim to give Australian investors easy and direct access to the US share market, Stake has now cut costs for investors trading in US shares like Tesla, Amazon, and Google.
The zero brokerage plan has hit the scene before other platforms including Google-backed US broker Robinhood, which has over 65,000 Australians on a waiting list for zero commission trading.
When asked how this Aussie start-up will sustainably achieve a $0 brokerage fee on US shares, Stake founder and CEO Matt Leibowitz told Canstar the answer is very simple.
"In the US share market, brokerage costs are close to $0," he said.
"We're just passing on these low costs of buying and selling US shares to our customers."
Over time Leibowitz expects the fintech company will have to add "pay-for services" to drive it to profitability, but for now there is "more than enough runway to last at this pace for a while".
Stake currently makes its money predominately from an FX fee (foreign transaction fee) of 0.7% when a customer chooses to move their money between AUD and USD accounts, which may well increase considering the introduction of $0 brokerage.
The founder says the Stake platform is about giving investors the option to access "more opportunities more simply".
"The existing trading platforms offer a good solution to invest locally," he said.
"Our focus is on making it easier for Australians to have their money work harder for them anywhere in the world.
"A proportion of our customers have a local trading account (for ASX listed shares) but use Stake just to trade US shares like Tesla, Amazon, Alibaba, Berkshire Hathaway and the ETFs not previously available to them."
Leibowitz says it is interesting to see some customers changing their commitments to their current brokers.
"With it now being so much simpler and cheaper to trade directly into the US share market than before, a lot find that there is no need for them to trade locally – it's quite interesting to see some customers making a complete shift away from their existing online brokers," he said.
Investors and brokers will likely monitor closely the development of brands like Stake that challenge the traditional model of investing.
New account types, a mobile app and faster funding ahead for Stake
Following many requests, the start-up will allow traders to invest on Stake through their SMSF, Company and Trust accounts.
Leibowitz says the start-up hopes to launch new account types for these traders by October, while in the meantime, they can visit the Stake website to join the waitlist.
After launching the SMSF, Company and Trust account types, the online share store plans to get the launch of a mobile app underway, realising it is "a pain point for customers".
Stake is also planning to get faster funding for customers.
"You'll see us move towards faster funding, where our goal is to have people sign up, fund their account and place an order in less than five minutes," said Leibowitz.
"Currently, it takes three to five days for full verification and USD transfers, which for us is way too long.
"We think we have a great solution to get this right down."
Important Information:
This advice is general and has not taken into account your objectives, financial situation, or needs. Consider whether this advice is right for you. Consider the product disclosure statement (PDS) before making any financial decision. For more information, read Canstar's Financial Services Guide (FSG).

Please note that all information about performance returns is historical. Past performance should not be relied upon as an indicator of future performance; unit prices and the value of your investment may fall as well as rise. The results are general advice only and not personal product advice. If you look at any specific product, consider the product disclosure statement (PDS) and seek advice from a licensed financial adviser before making an investment decision. See our detailed disclosure. Click here for additional important notes and liability disclaimer.

Canstar is an information provider and in giving you product information Canstar is not making any suggestion or recommendation about a particular product. The information has been prepared without taking into account your individual investment objectives, financial circumstances or needs. Before you decide whether or not to acquire a particular financial product you should assess whether it is appropriate for you in the light of your own personal circumstances, having regard to your own objectives, financial situation and needs. You may wish to obtain financial advice from a suitably qualified adviser before making any decision to acquire a financial product. Please refer to the product disclosure statement (PDS), Canstar's Financial Services and Credit Guide (FSCG) for more information, and read our detailed disclosure, important notes and liability disclaimer.