Australian investors can be categorised into three key 'personas' when it comes to building their personal wealth – delegators, validators and self-directed, according to a report released by NAB.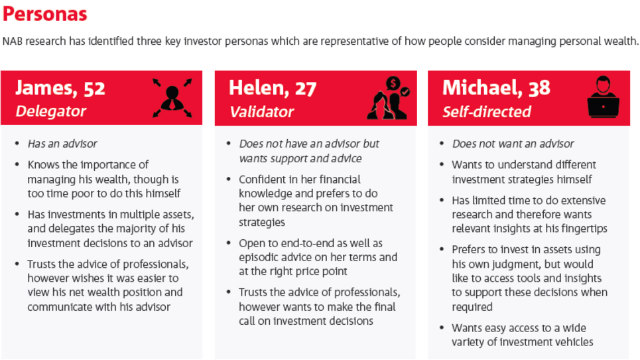 Matthew Lawrance, Chief Executive Officer MLC and Executive General Manager of Wealth, NAB, said customers wanted more targeted support and advice across banking and wealth management.
"The differing needs of customers are changing the industry," he said.
"Understanding these different investor personas helps us to more effectively engage with them."
So, which investor 'persona' are you?
1. The Delegator
According to NAB, delegators know the importance of managing their wealth, but are too time poor to do it themselves.
Usually delegators are the older of the three investors, having built themselves a strong investment portfolio across multiple assets. They tend to delegate the majority of their investment decisions to a trusted advisor.
NAB also notes delegators tend to wish it was easier to view their net wealth position. They want to feel as though they have control of their wealth, but still feel the need to lean on someone to give them advice.
2. The Validator
The validator wants support and advice to help them better manage their wealth, but doesn't fully see the value in having a financial advisor.
The youngest of the three investors, the validator is beginning to enter the investment market and build a portfolio. They are confident in their financial knowledge and prefer to do their own research on investment strategies.
Generally, the validator is open to end-to-end as well as occasional advice on their own terms. They trust the advice of professionals but would prefer to make the final call when it comes to investment decisions.
Mr Lawrance called out the importance of holistic wealth management solutions to the future of the industry – particularly for the 'Delegators' and 'Validators'.
"[They] want more support and advice, and so we need to invest to give customers the ability to engage in all stages of the wealth management lifecycle."
3. The Self-directed
According to NAB, the self-directed investor understands the different investment strategies available to them and doesn't want an advisor.
In the middle age-wise of the investor categories, the self-directed group wants easy access to a wide variety of investment vehicles. They want to understand all the different types of investment strategies available to them and would prefer to invest in assets using their own judgement.
Due to their career commitments, self-directed investors often have limited time to perform extensive research and therefore wants relevant insights at their fingertips. They are looking to access a range of tools and insights that help with the research process.
Greater access to wealth management support
Mr Lawrance said it was also important not to forget to cater to the group of Australians who do not currently engage with their wealth at all.
"We need to continue to invest to develop new and innovative solutions that give them the ability to engage us – whenever, however and through whatever means suits them, whether it be digital or face-to-face."