We have all heard the saying that if you fail to plan you plan to fail, but how many truly understand the meaning of this statement? In my opinion, the importance of planning is understanding the impact of what you are focusing your attention on.
It is a well-known fact that Australia is a country with one of the highest levels of personal debt, and we know that the main source of income for around 50% of retirees is the government pension. So, what exactly are Australians planning for, if they continually end up in this situation?
Unfortunately, many Australians mistakenly believe that the pension is a retirement plan. However, it was set up as a safety net by the government to support those who have not really planned for their retirement, which explains why it is set at levels that are insufficient for people to survive.
In reviewing the recent investor survey by the Australian Securities Exchange, the number one financial goal for 50% of those surveyed was to go on a holiday. Around 25% also indicated that their goal was to save for something big, while 13% indicated they had no specific personal or financial goals.
On a good note, 34% indicated they wanted to pay down debt or become debt-free, while 32% indicated their goal was to get their finances in order. While the survey included investors from all ages, one figure that was quite interesting, but not surprising, was that only 12% said their goal was to plan for retirement, which explains why so many Australians are in debt and on a government pension.
This survey also highlights that what we focus on may not be what we should be planning for. Retiring debt-free and on a comfortable income is very achievable for anyone with a little dedication and planning. You just need to follow the three laws of wealth creation that I outline in my book, which is to spend less than you earn, invest wisely and leave it alone to grow.
So what are the best and worst-performing sectors this week?
Once again, Information Technology is up 2.26% followed by Industrials and Materials, which are just in the green. The worst performing sectors include Utilities – down 2.33%, while Communication Services and Consumer Staples are down around 1%.
Looking at the ASX top 100 stocks, the best performers include CIMIC Group, Oz Minerals and Challenger, which are all up around 7%, while Orora, Qantas, South 32 and Cochlear are all up around 5%. The worst performers include Unibail-Rodamco-Westfield – down over 6%, and Bendigo & Adelaide Bank – down over 5%, while Crown Resorts and Cleanaway Waste are down over 4% so far.
S&P and All Ords Movements (19/10/2020 to 23/10/2020)
Closing Points
% Change

S&P/ASX 200 (XJO)

6,167

-0.15%

All Ordinaries (XAO)

6,374

-0.18%

Prepared by Canstar.
Sector Movements (19/10/2020 to 23/10/2020)
Closing Points
% Change

Consumer Discretionary (XDJ)

2,805

1.74%

Consumer Staples (XSJ)

12,471

-1.29%

Energy (XEJ)

6,784

0.55%

Financials (XFJ)

4,925

0.66%

Health Care (XHJ)

43,912

-0.43%

Industrials (XNJ)

5,837

0.45%

Information Technology (XIJ)

2,022

1.80%

Materials (XMJ)

14,047

-0.67%

Telecommunication Service (XTJ)

1,165

-1.54%

Utilities (XUJ)

7,015

-2.13%

Prepared by Canstar.
So what's next for the Australian share market?
October has a history of being volatile, with wild swings up and down, and this week we have experienced both. On Monday, the market rose over 1% before closing slightly lower, while on Thursday the market was down over 1.5% before turning to rise. Rather than continuing to rise this week, the All Ordinaries Index has really gone nowhere, so it will be interesting to see where it closes today.
With the Presidential election now in its final stages, the US market is showing weakness with no real signs of direction, which I believe is weighing down our market. Once the uncertainty of the election has passed, I believe the Australian market will move up nicely into Christmas and beyond.
However, we still need to be cautious as we may experience some short-term downside before the market continues to trade up. For now, it is wise to sit and watch the show for a few more weeks but to get ready for the opportunities that will unfold in the not too distant future.
For now, good luck and good trading.
---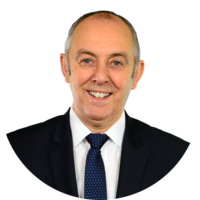 About Dale Gillham
Dale Gillham is Chief Analyst at Wealth Within and international bestselling author of How to Beat the Managed Funds by 20%. He is also the author of Accelerate Your Wealth—It's Your Money, Your Choice.