All things come to an end and regardless of what your thoughts may be about the US Presidency over the last four years, there will be another person taking the reins of the oval office on 20 January. Despite this, during Trump's reign the Dow Jones Index grew over 50%; so the question we need to ask right now is will the current bull market continue under Joe Biden and the Democrats.
While we could debate for hours the performance of the stock market under each political party, right now the statistics are inconclusive. That's because, under the Democratic-led Obama presidency, the Dow Jones also rose over 50%. It may surprise you to know that the statistics are very similar to Australia as to whether the market performs better under a Liberal or Labour government.
So if the government of the day does not indicate how well a market performs, how do investors ensure they are investing at the right time so they can be profitable? Broadly speaking, there is no real good or bad time to be in the stock market, there are just better times to be in or out of the market. While it makes sense to be in the stock market when it is rising and to be out during times like the GFC or other market crashes, I would argue that for investors to continually make money, it is not about being in during good times or out during bad times, but rather having the right attitude towards investing.
Regardless of how much research is done by an investor, their inability to consistently profit comes done to the fears they hold, whether it is the fear of losing, the fear of being wrong or the fear of missing out, to name a few. Therefore, while there are macro-economic factors at play right now like the US Presidency, the COVID-19 pandemic and the strained Australian Chinese relationship, investors who have the right attitude will always profit more than those who do not. Remember knowledge is the enemy of fear.
So what are the best and worst-performing sectors this week?
While the Australian stock market has been down a fraction this week, in a good sign it has started to rise. Energy is the best performer up over 4%, while Financials are up over 1% with Communication Services just in the green. The worst performing sectors include Consumer Staples, Industrials and Healthcare, all of which are down over 2% as of writing.
Not surprisingly, the best performers in the ASX/S&P top 100 stocks include Energy stocks with Santos leading the way up nearly 20% while Oil Search is up over 18% and Woodside Petroleum is not too far behind up over 17%. The worst performers include Link Administration down over 16%, The A2 Milk Company down over 10% and Magellan Financial Group down over 8%.
ASX 200 – Top 5 Share Price Gains (11/01/2021 to 15/01/2021)
Rank
Company
Closing Share Price
% Change

1

Avita Therapeutics, Inc

$6.04

21.3%

2

Pro Medicus Ltd

$38.19

17.1%

3

Afterpay Ltd

$133.15

14.8%

4

Whitehaven Coal Ltd

$1.79

13.0%

5

Mesoblast Ltd

$2.45

9.4%

Prepared by Canstar.
ASX 200 – Top 5 Share Price Losses (11/01/2021 to 15/01/2021)
Rank
Company
Closing Share Price
% Change

1

Polynovo Ltd

$2.54

-28.0%

2

Resolute Mining Ltd

$0.71

-15.1%

3

Westgold Resources Ltd

$2.40

-9.8%

4

Altium Ltd

$28.22

-9.7%

5

Gold Road Resources Ltd

$1.23

-9.2%

Prepared by Canstar.
So what's next for the Australian share market?
As the New Year starts to unfold and more volume comes back into our market, we will get more of an idea on market sentiment. That said, following a strong rise in the first week of January with the All Ordinaries Index rising over 2%, as Energy stocks soared, this week has been a little weaker. In the short term, our market will fall away slightly into late January to mid-February, although it may rise for one or two more weeks before doing so.
Overall, I believe our market will move to a new all-time high by the end of February and perform much better than it did last year. As mentioned in my previous reports, my preferred sectors for 2021 include Energy, Materials and Financials, and I expect that contrary to 2020, Technology will lag the market.
Main Image Source: Gopixa (Shutterstock)
This article was reviewed by our Content Producer Isabella Shoard before it was published as part of our fact-checking process.
---
If you're comparing Online Share Trading companies, the comparison table below displays some of the companies available on Canstar's database with links to the company's website. The information displayed is based on an average of 6 trades per month. Please note the table is sorted by Star Rating (highest to lowest) followed by provider name (alphabetical). Use Canstar's Online Share Trading comparison selector to view a wider range of Online Share Trading companies.
---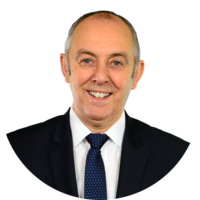 About Dale Gillham
Dale Gillham is Chief Analyst at Wealth Within and international bestselling author of How to Beat the Managed Funds by 20%. He is also the author of Accelerate Your Wealth—It's Your Money, Your Choice.
Follow him on LinkedIn.
This article was reviewed by our Content Producer Isabella Shoard before it was published as part of our fact-checking process.
---
Thanks for visiting Canstar, Australia's biggest financial comparison site*
→ Looking more ways to create wealth? Learn more about Online Share Trading, Exchange Traded Funds and Cryptocurrency.
You can also compare health insurance, credit cards and life insurance and home loans with Canstar.