Winners of the inaugural FINNIE awards were announced on Wednesday at a gala ceremony in Sydney, where 29 awards were distributed for excellence in the fintech sector.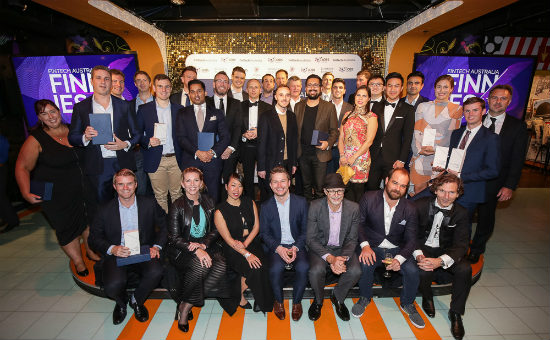 The major award of FinTech Organisation of the Year went to Afterpay, which brings an interesting solution to retail transactions, allowing customers to shop and receive an item straight away and then pay for it later in four interest-free fortnightly payments.
Judges said Afterpay has a "strong customer centric" solution to retail transactions and were impressed that the company has attracted "independent private sector bank financing".
The joint CEOs of influential Australian small business lender Prospa, and the head of the trail-blazing company AgriDigital, were declared Australia's fintech industry leaders for 2017.
CEOs Greg Moshal and Beau Bertoli both won the Male FinTech Leader of the Year for their work at Prospa, where customers can receive unsecured loans of up to $250,000 in less than 30 minutes after submitting their application.
"Prospa comes with a fresh and energetic attitude, sourced straight from its founders," said the judges.
"Very clear vision and target-focused, the results speak for themselves."
AgriDigital CEO Emma Weston won the awards for both Female FinTech Leader of the Year and Emerging FinTech Leader of the Year.
A commodity management and financing solution for the global grains industry, AgriDigital has experienced a lot of success under Ms Weston's leadership.
In 2016, they successfully executed the world's first ever live settlement of a physical agri-commodity on a blockchain between a grower and a buyer.
Judges said Ms Weston displays a "strong combination of business and technical leadership" and "showcases resilience, creativity, and tenacity in a new business undertaking".
These are the winners of the 5 headline FINNIE awards:
FinTech Organisation of the Year: Afterpay
Female FinTech Leader of the Year: Emma Weston, CEO and co-founder of AgriDigital
Male FinTech Leader of the Year: Greg Moshal and Beau Bertoli from Prospa (joint winners)
Emerging FinTech Organisation of the Year: Spaceship
Emerging FinTech Leader of the Year: Emma Weston, CEO and co-founder of AgriDigital
FinTech Australia President Simon Cant said he was impressed by the quality of entries and winners in the inaugural awards.
"Tonight's awards showcase the excellence in Australia's fintech industry and will help promote this industry to a broader audience, assisting it to grow in a highly globally competitive environment," he said.
"The winners are a testament to the dynamic and exciting Australian fintech environment, which has come a long way in a few short years and has almost unlimited potential.
"The awards also amplify the work of our fintech industry members, who are taking on and solving key industry challenges, such as increasing leadership diversity and building partnerships with larger financial institutions."
NSW Minister for Innovation Matt Kean said he was committed to growing this "high-value growth sector to create jobs and economic opportunities".
"Sydney is home to Australia's largest financial services industry and a leading Asia Pacific fintech hub, with 54% of our fintech sector based in NSW, including 8 out of 9 Australian fintech startups on the Fintech 100," said Minister Kean.
Along with the 5 headline awards, there were also awards for companies demonstrating excellence in 17 sub-sectors, plus another 7 awards recognising collaborative partnerships, workplace diversity, market presence, and marketing.
Timelio, a company that uses technology to make it fast, easy, and affordable for businesses to turn invoices into cash, won the award for Best Workplace Diversity.
"The references provided by two employees (one female and one male employee) also speak to inclusiveness and diversity of thought, with reference to a leadership style that is consultative and seeks input, yet also allows autonomy and responsibility/ownership of actions by employees," said the judges.
The highly popular wealth management app and website Acorns Grow won the award for Excellence in Wealth Management, competing against other finalists like Fincast, Pocketbook, and Sharesight.
Judges said the simple and easy use for customers makes investing easy, which is "essential for tapping the target market".
The full list of FINNIES award winners is as follows:
FinTech Organisation of the Year: Afterpay
Emerging FinTech Organisation of the Year: Spaceship
Female FinTech Leader of the Year: Emma Weston, CEO and co-founder of AgriDigital
Male FinTech Leader of the Year: Greg Moshul & Beau Bertoli, founders and joint CEOs of Prospa
Emerging FinTech Leader of the Year: Emma Weston, CEO and co-founder of AgriDigital
Best Fintech Place to Work: Prospa
Best Workplace Diversity: Timelio
Marketing Campaign/Branding Initiative of the Year: Equitise – Equitise Bubble
Excellence in Establishing Market Presence: Australia: BRICKX
Excellence in Establishing Market Presence: Global: Avoka
Excellence in Industry Collaboration & Partnerships (Australia): Sharesight
Excellence in Industry Collaboration & Partnerships (Overseas): OnDeck Capital Inc.
Excellence in Business Lending: RateSetter Australia
Excellence in Consumer Lending: RateSetter Australia
Excellence in P2P Lending: SocietyOne
Excellence in Crowdfunding: CrowdfundUP and Equitise
Excellence in Payments (including Remittance/FX): Assembly Payments
Excellence in Digital Currencies/Wallets/Exchanges: CoinJar
Excellence in Blockchain/Distributed Ledger: AgriDigital
Excellence in Cyber Security: Entersoft
Excellence in Insurtech: INSTANDA
Excellence in Data/Al Solutions: Proviso Data
Excellence in Regtech/Risk Management: Proviso Data
Excellence in Wealth Management (including PFM and Robo): Acorns Grow
Excellence in Asset Management & Trading: SelfWealth
Excellence in Financial Inclusion (Social Good): Peppermint Innovation Ltd
Excellence in FinTech Support Services: Proviso Data
Best Co-Working Space (national): Tank Stream Labs
Best Investment Firm (VC, Accelerator, Family Office etc): AirTree Ventures and Reinventure Group