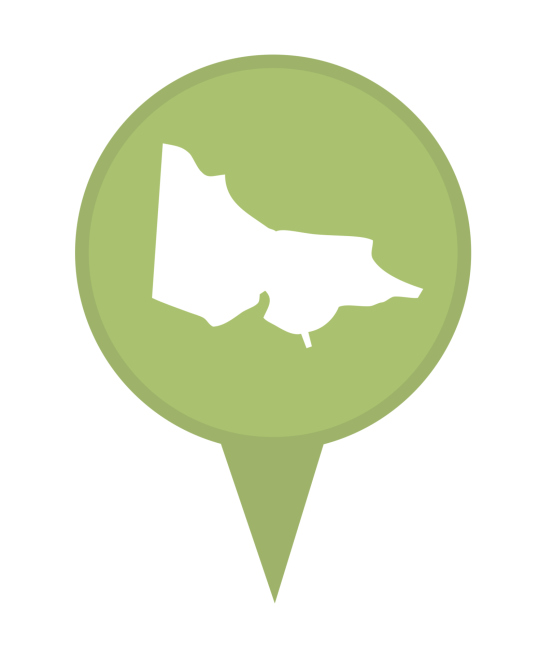 There's no doubt that buying a first home is becoming increasingly challenging for Victorians. It's something that the state government is acutely aware of and has taken steps, via its new Metropolitan Planning Authority to address.
"The Andrews Labor Government is getting on with clearing the backlog of planning applications left by the previous Liberal Government," said Minister for Planning, Richard Wynne. "Certainty in the planning system is good for business, good for jobs and good for Victoria."
But – how much more challenging is it now as opposed to, say, fifteen years ago? The answer is: a fair bit. According to Canstar's calculations, back in 2000, for example, an average household was required to spend approximately 18% of their after-tax household income on home loan repayments (assuming average house prices and a 25 year loan). Now, that figure is 22% of household income. That's extra money that has to be taken from somewhere else in the household budget.
More worryingly though, average home loan interest rates were around eight percent back in 2000, compared to the historically low average rate of 5.65% now. In other words, despite a more than two percent fall in home loan interest rates, it's taking a greater proportion income now to afford the mortgage. Given Australia's level of indebtedness, it's a good indication of why we will not see a return to a high interest rate environment any time soon.
Home loan affordability comparison
What if we look back an entire generation though, to the "bad old days" when home loan interest rates were at an historical high – back in 1990. Doing that, we can see just how significantly house prices have outstripped wages growth in Victoria.
Victoria

1990
2015
Average house price
$71,300
$342,900
Average loan (assuming 20% equity)
$57,040
$274,320
Average annual household income (after tax)
$39,716
$91,493
Average interest rate
17.00%
5.65%
Percentage of income
25%
22%
The assumptions made in the above calculation are included in the footnote to this article.
So in 1990 Victorians were paying an eye-watering 25% of the after-tax household income on mortgage repayments – the Boomer generation still talk about how difficult it was back then to keep hold of the family home. That's certainly understandable with an average home loan interest rate back then of 17%. And yet now – with historically low interest rates – Victorians are paying 22% of their household income, on average, towards a mortgage.
Consider this: if home loan rates were currently 10%, households would be putting an average of 32% of their income towards loan repayments!
Back in the late eighties/early nineties there were a few years of high interest rate pain, but then interest rates started coming down and mortgage payments as a percentage of household income fell. By 1993 the average proportion of household income going towards a mortgage in Victoria was 16%.
Here's a graph version of Victorian mortgage repayments as a percentage of household income, plotted against mortgage interest rates.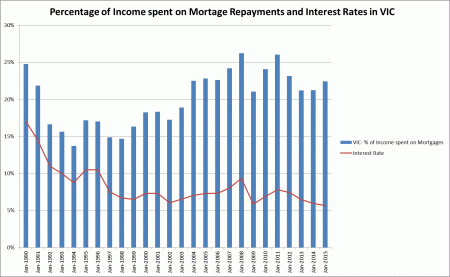 It's particularly worrying that in the past few years as interest rates have fallen, the percentage of household income needed to service an average home loan has continued to rise. Where to from here? That?s the question.
Assumptions used in calculation
The following assumptions have been made while doing the calculations:
House Prices/Average Loan Amounts are based on ABS Housing and Finance Data and incorporate the following:

Constructions of dwellings
Purchase of new dwellings
Purchase of established dwellings
The final amount was the average of the above

Interest Rate is based on RBA's data (Indicator Lending Rates) – Lending rate, Housing loans, Standard variable
Monthly Net Income for a household was calculated using ABS Data – Average Weekly Earnings (for each State) and was the sum of the following:

Earnings – Male Total
Earnings – Female Total