The average size of Australia's newly built homes is smaller than a tennis court.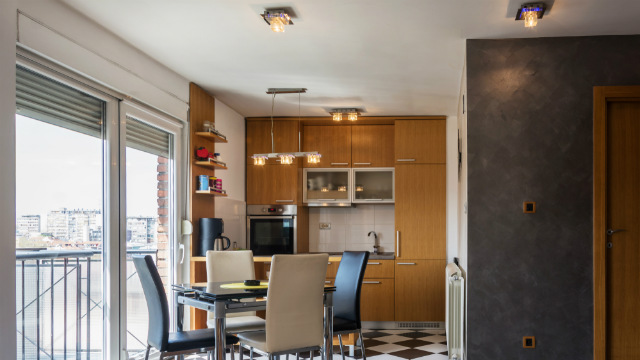 CommSec's Home Size Trends report released today says a rise in apartment builds has reduced the average floor size of newly built homes to 186.3 square metres during the 2018 financial year.
This is the nation's smallest average in 22 years, based on Australian Bureau of Statistics data.
It is also smaller than a standard tennis court of about 196 square metres when taken from the singles lines.
CommSec Chief Economist Craig James said around 27% of all new homes were apartments eight years ago, but now they accounted for nearly half of all homes built.
He said a strong demand for inner city housing from young people and families who wanted to live closer to work, cafes, restaurants, shops and other amenities was behind the rise in units, particularly in NSW.
"Across the country more people are choosing to live in apartments and if this trend continues, we will see the home size continue to shrink," Mr James told Canstar.
"In recent years, we have seen an increase in demand for new schools much closer to city centres.
"This is an amazing transformation in terms of infrastructure demand."
In the past, the urban sprawl meant there was more demand for schools in the outer suburbs, he added.
The average size of an apartment has also shrunk to 125 square metres compared to 140 square metres during the six years to 2010.
Mr James said the shrinking home size was in sync with the falling number of people per household.
The 2016 Census data showed the average number of people living in each household was 2.6, down from 2.8 in 1991 and 4.5 in 1911 when the first Census was conducted.
CommSec's report points out that from 2006 to 2013, the number of people per dwelling rose partly due to a trend for children to stay at home with their parents for longer because of the cost of homes and rising rents.
But since 2014, the number of people per dwelling has been falling.
"Lower interest rates and the increased supply of cheaper apartments and town houses compared with houses have prompted older couples to down-size," the report said.
"And more Generation Y and Millennials have been moving out of home and renting or taking ownership of accommodation more appropriate to their needs."
Large houses haven't totally fallen out of fashion, with the average house built in 2017-2018 being 230.8 square metres, which is still far bigger than those built in the 1980s and 1990s.
However, it is still smaller than homes built about 10 years ago that averaged almost 250 square metres.
Victorians currently build the nation's largest houses, followed by the ACT, Western Australia and Queensland, while NSW's average house size has fallen to a 23-year low.
The US builds bigger houses than Australia with its average being 244 square metres, while New Zealand's average is much smaller at 171 square metres.
CommSec's report was based on ABS data, Census data, US Census Bureau figures and official New Zealand statistics.