The suburbs of Harristown in Qld and Tapping in WA have the highest levels of mortgage stress in Australia, according to the latest research from Digital Finance Analytics.
Six Victorian and five NSW suburbs were present in the top 20 suburbs for mortgage stress, along with five from WA, three from Queensland, and a single suburb from Tasmania.
In Harristown (QLD), a district with a population of around 60,000, more than 4,500 households were in difficulty with their mortgage – and more than 170 households were at risk of mortgage default.
Tapping (WA) was similarly concerning, with roughly 3,600 households experiencing mortgage stress.
For further information on comparing current home loan products available, please see our comparison table below which includes links directly to the providers website. This features variable home loans available for property investors, sorted by our star ratings (highest – lowest). Please note that this table features products that are based on a loan amount of $600,000 with a LVR of 80%, for properties in NSW.

The mortgage stress survey by Digital Finance Analytics refers to households that are in some form of loan default or are struggling to make their payments. It ranks suburbs based on the number of households in them which are currently experiencing mortgage stress.
Victoria had by far the highest number of suburbs in the list of 100, followed by NSW, WA and QLD. Within the top 20 suburbs, it was Western Australia which had the greatest proportion of households in home loan difficulty. More than a quarter (26.4%) of mortgage-stressed homes were located in WA, closely followed by Victoria (26.38%).
You can check out the full top 20 suburbs below: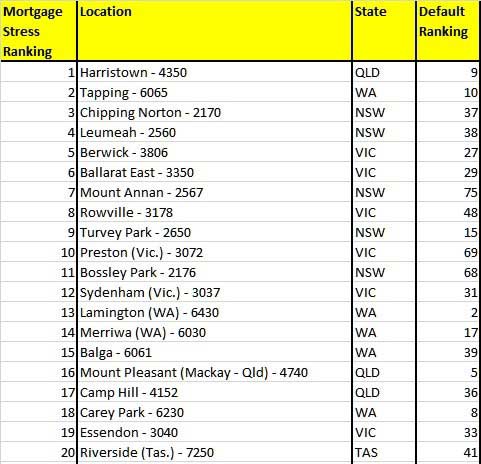 The proportion of financially stressed Aussie households has risen rapidly in recent years. The percentage of households in financial stress – which includes mortgage stress, late repayments, repeated borrowing and more – rose from 26% in 2010 to over 31% in 2015.
Low income households unsurprisingly experienced some of the highest rates of mortgage stress. Households which earned $150,000 per year or less had mortgage stress rates of over 1.5%, with the vast majority of mortgages in the nation being held by households earning between $50,000 and $150,000.
Interestingly, the highest rates of mortgage stress were found in rich households with combined annual incomes of $700,000 or higher. Rates of mortgage stress reached over 2.2% for those earning $750k-$800k per year. This suggests that expensive lifestyles are as much to blame for financial difficulty as low income – the more affluent the household, the higher the costs.