Type 2 diabetes is one of the major consequences of the obesity epidemic and is increasing at the fastest rate of all chronic diseases. In terms of diabetes diagnosis, type 2 diabetes currently accounts for around 85% of all cases. Also of concern to health professionals is that there are large numbers of people with silent, undiagnosed type 2 diabetes which may be damaging their bodies. An estimated 2 million Australians are at high risk of developing type 2 diabetes and are already showing early signs of the condition.
Figure 3.7.1: New cases of type 1 diabetes and insulin-use among people with type 2 diabetes, by age, 2014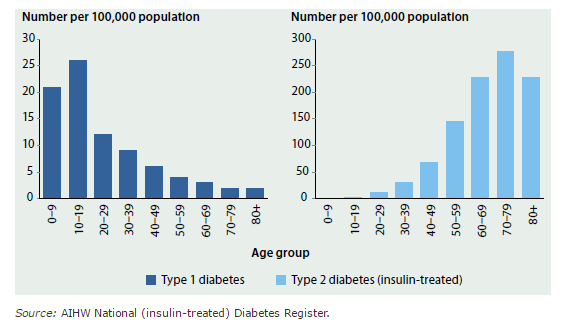 The World Health Organisation (WHO) has mandated November 14 as World Diabetes Day, an international event to raise awareness about diabetes. Close to 350 million people in the world have diabetes and WHO reports that a person dies from this disease every 6 seconds – that's 5 million deaths. Currently 1 in 11 adults have diabetes worldwide and this is predicted to increase to 1 adult in 10 (652 million) by 2040. On top of that, one Australian is diagnosed with diabetes every five minutes. Sobering statistics indeed. But many of us may still be asking 'what is type 2 diabetes', so we've put together this overview of the disease.
Compare your health insurance policy
What is diabetes? What is type 2 diabetes?
Diabetes is a chronic disease that occurs when the body does not produce enough insulin or when it cannot effectively use the insulin it does produce to help the body metabolize the sugar that is formed from the food we eat.
Insulin is a hormone that regulates blood sugar, which gives us the energy we need to live. Unable to get into the cells to be burned as energy, the sugar can build up to harmful levels in the blood.
There are three forms of the disease. People with type 1 diabetes typically make none of their own insulin and therefore require insulin injections for survival. People with type 2 diabetes, the form that comprises the majority of all cases, usually produce their own insulin, but not enough or they are unable to use it properly. Then there is gestational diabetes; globally, 1 in 7 births is affected by gestational diabetes. While maternal blood glucose levels usually return to normal after the baby is born, there is an increased risk of both mother and child developing type 2 diabetes later in life.
Diabetes is serious
Diabetes can be managed well but if it is not managed well, the possible complications are the same for type 1 and type 2 diabetes including heart attack, stroke, kidney disease, limb amputation, depression, anxiety and blindness.
We know diabetes:
Is the leading cause of blindness in working age adults
Is a leading cause of kidney failure and dialysis
Increases the risk of heart attacks and stroke by up to 4 times
Is a major cause of limb amputations
Affects mental health as well as physical health. Depression, anxiety and distress occur in more than 30% of all people with diabetes
Early diagnosis, optimal treatment and effective ongoing support and management reduce the risk of diabetes-related complications. Even people with insulin-dependent type 1 diabetes can live long and healthy lives if they keep their blood sugars under tight control.
About World Diabetes Day
World Diabetes Day was created in 1991 by the International Diabetes Federation and the World Health Organisation in response to growing concerns about the escalating health threat of diabetes. World Diabetes Day became an official United Nations Day in 2007.
The date of 14 November has been set every year to mark the birthday of Fredrick Banting who together with Charles Best made the discoveries that led to the development of insulin in 1921. Expect to see heaps of blue on this day, as the global symbol for diabetes, the blue circle, appears everywhere to help raise awareness of this disease.
World Diabetes Day puts the focus on healthy lifestyle and healthy eating, which is a key factor in managing type 1 diabetes and helping to manage and prevent type 2 diabetes.
Local and national events are being organised by member associations of the International Diabetes Federation including, Diabetes Australia and the state and territory organisations. For events around the country, go towww.diabetesaustralia.com.au/world-diabetes-day
Compare health insurance policies with CANSTAR
What can you do to prevent type 2 diabetes?
Healthy living starts at breakfast
World Diabetes Day encourages healthy living and that means there's a focus on starting each day right by having a healthy breakfast. It's no coincidence that adults with type 2 diabetes are more likely to eat a more healthy diet.
A healthy breakfast should help to prevent blood sugar levels from getting too high and should keep you full through the morning. Whilst cereal and toast may be cheap, these options typically raise blood sugar levels rapidly and may leave you hungry again before lunch.
280 Australians develop diabetes every day. Reduce your risk for type 2 diabetes and start eating healthy breakfasts like this! pic.twitter.com/pusEtZg2E8

— HCF Australia (@hcfaustralia) November 16, 2016
Tip: If you drink fruit juice for breakfast, consider cutting the juice out or having a smaller glass of it. For reference, a 450ml serving of fruit juice typically contains about 11 teaspoons of sugar! Eating too much sugar can indirectly increase your chances of developing diabetes, so your sugar intake is definitely something you should be watching. Diabetes caused by obesity is one of the main reasons being put forth for why a sugar tax is a good idea in Australia.
Keep active
Having a healthy lifestyle includes daily physical activity which can prevent or delay type 2 diabetes. There are plenty of organised activities you can take part in such as Walk to Work, but you can also do your own thing and get moving with family and friends in any way you like. It's most important to remember that activity is for life, not just one day. Regular physical activity could include walking, riding a bike, dancing or swimming. Even if you need some tips to get you started, it's a great habit to get in to!
Maintain a healthy weight
One of the most important aspects of diabetes management is to maintain a healthy body weight. Being overweight not only increases your risk of heart disease, stroke and some cancers, it also makes your diabetes harder to manage. Small changes in your diet such as reducing your portion sizes and swapping to low-fat dairy products can help you to achieve a healthy body weight and manage your diabetes.
A small weight loss (5-10% of body weight) can make a big difference and, as a consequence, reduce your risk of developing complications.
If you have pre-diabetes (impaired fasting glucose or impaired glucose tolerance), losing 5-10% of your current body weight can prevent type 2 diabetes in up to nearly 6 out of 10 people.
So what does 5-10% of your body weight mean in real terms? For a 100kg person this would mean losing 5-10 kg.
If you are carrying excess weight around the middle, in the interest of your health, you should reduce your waistline by following a diet plan lower in kilojoules and total fat (particularly saturated fat). Ask your doctor, dietitian, exercise specialist or Credentialed Diabetes Educator for advice.
Symptoms of type 2 diabetes: what to look for
In type 1 diabetes, symptoms are often sudden and can be life-threatening; therefore it is usually diagnosed quite quickly. Type 2 diabetes symptoms are trickier though; many people have no symptoms at all, while other signs can go unnoticed, being seen as part of 'getting older'. Therefore, by the time symptoms of type 2 diabetes are noticed, complications of diabetes may already be present.
Common type 2 diabetes symptoms include:
Being more thirsty than usual
Passing more urine
Feeling tired and lethargic
Always feeling hungry
Having cuts that heal slowly
Itching, skin infections
Blurred vision
Unexplained weight loss (Type 1)
Gradually putting on weight (Type 2)
Mood swings
Headaches
Feeling dizzy
Leg cramps
However the symptoms of type 2 diabetes are varied and not every person with type 2 diabetes will experience every single possible symptom of type 2 diabetes.
Note: This information is of a general nature only and should not be substituted for medical advice or used to alter medical therapy. Check with your GP for your individual medical needs. For more information, contact Diabetes Australia on their helpline 1300 136 588
Compare health insurance policies with CANSTAR