Both Woolworths and Coles have revamped their supermarket rewards programs recently. Here's how the Woolworths flight rewards program stacks up. 
Supermarket rewards programs are big business – and they're popular! Both Coles and Woolworths have recently revamped the flight rewards component of their rewards schemes. You can check out the details of the Coles Velocity points partnership here.
 Compare Credit Cards With Rewards Programs
How does the Woolworths Rewards Program work?
The news of the Woolworths revamp, back in August, was broken by Australian Business Traveller via a leaked staff memo. Qantas Frequent Flyer (QFF) points are once again front and centre of the scheme.
Timeline of Woolworths Rewards Program
| | |
| --- | --- |
| Prior to October 2015 | The original Woolworths rewards program saw customers earn 1 Qantas Frequent Flyer point per $1 of all spending above $30 at Woolworths. |
| October 2015 | Woolworths ceased partnership with Qantas and instead customers earned Woolworths Dollars on orange-ticketed items. The Woolworths Dollars could be converted into discounts. |
| December 2015 | Woolworths retained its existing program but reintroduced the ability to earn Qantas Frequent Flyer points by converting Woolworths Dollars into QFF points |
| August 2016 | Woolworths reverts to a similar program to its original Woolworths rewards program. Woolworths points will be earned at a rate of 1 point / $1 spent at Woolworths supermarkets, BWS bottle shops and co-branded Caltex service stations and 2,000 of these points can be converted to 870 Qantas Frequent Flyer points |
In October 2015 Woolworths received a fair amount of criticism when it made the decision to scrap its Frequent Flyer rewards program and whilst it added frequent Flyer points back into the mix quite quickly, it appears that the current rewards system of earning Woolworths Dollars on selected ticketed items has not resonated with customers. A Canstar Blue survey of 2,300 Coles/Woolworths shoppers in June asked customers for their opinion of their chosen supermarket rewards program. While 65 percent  of Coles shoppers said that their loyalty/rewards program was good value, only 41 percent of Woolworths shoppers agreed.

Is Woolworths' new rewards program a better deal for customers?
As with anything new, there are always winners and losers. When the current Woolworths Rewards Program is compared to the one that it replaced, this new program would seem to be a more generous and certainly easier to understand rewards program for shoppers. Customers  earn one reward point for every dollar spent at Woolworths supermarkets, affiliated Caltex service stations and BWS bottle shops. 2,000 rewards points can be converted into 870 Qantas Frequent Flyer points.
When compared to Woolworth's original Everyday Rewards program, it seems that whether you will earn more or less Qantas Frequent Flyer points now as opposed to then depends on your shopping habits.
Looking purely at the amount spent at Woolworths supermarket, shoppers spending very small amounts per shop will be better off due to the fact that the original scheme did not attract any reward until a minimum $30 spend. On the other hand shoppers spending more than around fifty dollars will not earn as many points under the new system.
| Supermarket Spend | Old Woolworths Everyday Rewards (discontinued October 2015) | New Woolworths Points (from 31 August 2016) 2,000 points = $10 or 870 Qantas Points |
| --- | --- | --- |
| $30 | No Qantas points | 30 Woolworths points = 15c or 13 Qantas points |
| $53 | 23 Qantas points | 53 Woolworths points = 26c or 23 Qantas points |
| $100 | 70 Qantas points | 100 Woolworths points = 50c or 43 Qantas points |
Source: CANSTAR. Based on reported changes to Woolworths rewards scheme.
However this doesn't take into account the fact that customers will now potentially be earning rewards points on their petrol purchases and alcohol purchases as well. Fifty dollars of petrol and thirty dollars of alcohol from BWS could significantly boost the rewards points earned. For example:
| Spending | Old Woolworths Everyday Rewards (discontinued October 2015) | New Woolworths Points (from 31 August 2016) |
| --- | --- | --- |
| $50 supermarket spending | 20 | 21 |
| $50 petrol | 0 | 21 |
| $30 purchase from BWS | 0 | 13 |
Source: CANSTAR. Based on reported changes to Woolworths rewards scheme.
Note: No points are earned on purchases of smoking products, gift cards, mobile recharge, Woolworths Mobile, travel cards and tickets, delivery charges, internet cafes, Carpet Care, lottery products, Woolworths Flowers and purchases using Caltex Starcard.
How do the Woolworths and Coles flight rewards programs compare?
For keen travellers, the decision to use Woolworths or Coles for flight rewards will probably come down to the preferred airline, as both earnings rates are similar.
Woolworths customers will receive one Woolworths point per dollar spent; Coles customer receive one Flybuys point per dollar spent. Under both schemes, 2,000 points can be redeemed for $10 cashback/discount.
Woolworths points can be converted to Qantas Frequent Flyer points, whereas Coles Flybuys points can be converted into Etihad Guest Miles or Virgin Velocity points.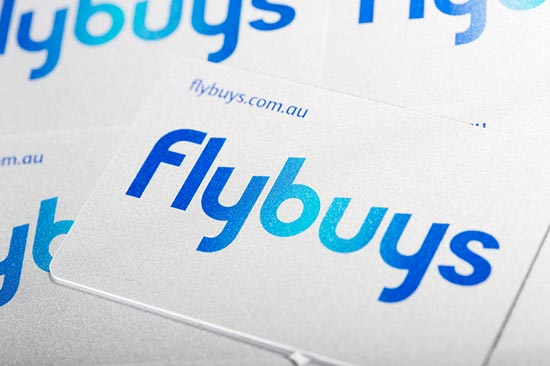 One form of competitive difference is that Coles shoppers can earn up to 10 Velocity Status Credits month on top of the Velocity Points. As background, status credits allow Velocity members to move up through the ranks of the frequent flyer program, to receive benefits from the airline such as lounge access, priority boarding, extra baggage and fast point earning.
Here, based on what's required to achieve a one-way flight between Sydney and Melbourne, is how it works out.
| | | | |
| --- | --- | --- | --- |
| | New Woolworths points | Flybuys – transferred to Etihad Guest | Flybuys – transferred to Velocity |
| Points per dollar spent | 1 | 1 | 1 |
| Points per $10 in rewards | 2,000 | 2,000 | 2,000 |
| Effective return on supermarket spending | 0.50% | 0.50% | 0.50% |
| Frequent Flyer transfer rate | 2,000 points = 870 Qantas Points | 10,000 points = 4,000 Etihad Guest Miles | 2,000 points = 870 Velocity Points |
| Effective Frequent Flyer earn rate (points/$1) | 0.435 | 0.4 | 0.435 |
| Airline points for SYD-MEL one-way flight | 8,000 Qantas Points + $34.18 in taxes | 6,900 Etihad Guest Miles + approx $22 in taxes | 7,800 Velocity Points + $21.11 in taxes |
| Effective airline return on supermarket spending (based on SYD-MEL one-way flight at $150) | 0.63% | 0.74% | 0.72% |
Compare Rewards Credit Cards with CANSTAR