Qantas has announced its new credit card surcharge on domestic and international flights.
In the wake of the Competition and Consumer Amendment (Payment Surcharges) Bill 2015 passing the Senate in late February and the Reserve Bank's new surcharging framework, Qantas has overhauled its credit card surcharge payments on flight bookings, for both domestic and international flights to reflect a percentage fee rather than a fixed dollar amount. The changes will be effective from September 2016.
Card payment fees before 1 September 2016:
Booking type
(Card payment fees per passenger per booking)
Debit/prepaid cards, including Qantas Cash®~ (for bookings made 7 days or more before departure)
Credit/charge card
Australian Domestic
A$2.50
A$7
Australian Trans-Tasman
A$2.50
A$7
Australian International
A$10
A$30
From 1 September, Qantas' card payment fees will be as follows:
| Booking made in Australia (per ticket, per card) | Debit/prepaid cards, including Qantas Cash®~ | Credit/charge cards | Fee Cap (per ticket per card in AUD) |
| --- | --- | --- | --- |
| Australian Domestic | 0.6% | 1.3% | A$11 |
| Australian Trans-Tasman | 0.6% | 1.3% | A$11 |
| Australian International | 0.6% | 1.3% | A$70 |
The methods of payment that do not currently attract a card payment fee, including POLi, debit/prepaid card for bookings made within 7 days of departure, BPAY for bookings made at least 7 days before departure and credit vouchers will continue to be fee-free.
Not all travellers better off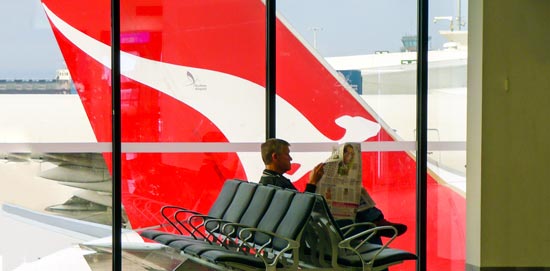 Under the new fees, travellers spending more than approximately $540 for a domestic flight or $5,000 for an international flight and booking that cost on a credit or charge card will end up paying a higher fee under the new schedule of costs than under the old system. Below that spend amount, though, travellers will save.
Qantas' new credit card charges are higher than the weighted-average benchmark for credit cards calculated by the RBA, which sits at 0.50 per cent.
The RBA noted in its recent Review of Card Payments Regulation conclusions paper, published in May 2016, that a particular element of stakeholder concern about excessive surcharging has been the use of fixed dollar surcharging in the airline industry. Given that most of the costs of card acceptance for a merchant vary with transaction values, surcharges of $7–8 per booking would appear to be well in excess of the cost of accepting cards for low value domestic airfares, even though they may be well below the cost of acceptance for a high value airfare such as a cross country, return business class ticket.
Submissions from airlines at the time of the public consultation period, though, argued for the inclusion of more cost categories in the calculation of the benchmark, including fraud mitigation costs associated with card payments, in addition to the merchant service fee, within the definition of allowable costs.