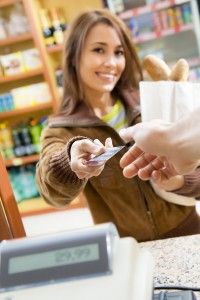 The credit card rewards landscape has undergone a significant value-shift over the past couple of years, with the average value of cash-based rewards dropping significantly. Our recent star ratings report highlights that for a $24,000 per annum spend, the average value of cash reward received stands at just $128 before fees. This is a slight improvement over last year (when the average value calculated by CANSTAR was just $117), but represents a disappointing fall since 2012.
Average reward return on a $24,000 annual spend, before annual fees
| | | | |
| --- | --- | --- | --- |
| Time | Merchandise reward per annum | Shopping voucher reward per annum | Cash reward per annum |
| July 2012 | $209 | $184 | $156 |
| Sept 2013 | $212 | $182 | $117 |
| Sept 2014 | $210 | $186 | $129 |
Source: Calculations for CANSTAR Rewards Star Ratings Report, September 2014. Values rounded to nearest dollar.
Why? Well, over time we have seen some cards significantly increase the redemption rate for cashback – in some instances doubling the redemption rate.
To an extent it makes sense of course, because financial institutions can purchase merchandise and shopping vouchers at wholesale rates, in which case they can offer more value to the consumer while protecting their own bottom line.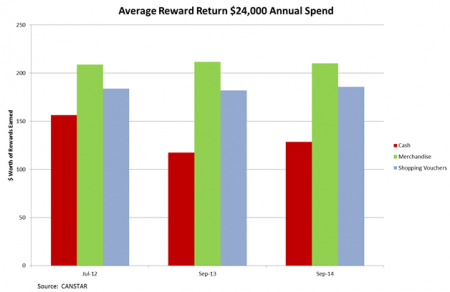 Shop around for some of the best-value credit card rewards
Value notwithstanding, some consumers will always prefer the convenience of a dollars-in-hand reward, so the message? Keep yourself informed about what your financial institution is offering.
These findings were part of our credit card rewards star ratings report. Analysing 138 rewards linked to 43 providers, it?s a must-read for rewards-savvy consumers.