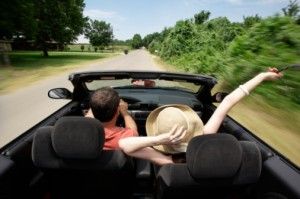 If you drive, then car insurance is a non-optional cost. At a minimum, drivers must have compulsory third party (CTP) cover – but to help prevent financial calamity in the event of a crash, something more comprehensive should really be considered (click here for an overview of the types of car insurance available). The question then becomes: how much is it going to cost? To a certain extent, the answer to that will depend on your age.
Each year CANSTAR collect more than 28,000 quotes from 42 insurers to determine the car insurers offering outstanding value. Customers are divided into the following segments:
Under age 25
Aged 25 – 29
Aged 30 – 59
Families
Mature aged drivers (over age 60)
Perhaps not surprisingly, the under 25 age group are the most expensive to insure. Interestingly though, 2013 saw the largest increase in premium among the family demographic. Also interesting to note is the difference in premium between a 30 – 59 year old driver and a family policy; the main difference between these two policies is that a family policy usually has someone under the age of 25 authorised to drive your car. So – booting your adult children from behind the wheel of your car could potentially save you a few hundred dollars in premium cost!
Age Group
$ premium 2013
% change in
12 months
Under 25
$1361.88
  9.94%
25 – 29
$887.33
  2.83%
30 – 59
$800.94
  4.26%
Family
$1181.04
12.12%
Mature
$781.68
  5.27%
Source: CANSTAR April 2013 
Mature drivers should not feel too smug though; while the under 25 age group are the most expensive to insure, CANSTAR?s most recent car insurance star ratings research, including a survey of 4,071 drivers, found that when it comes to claiming, the older generation respondents were the most likely to have make a claim during the past three years.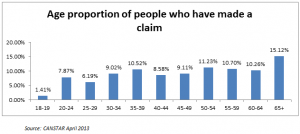 Source: CANSTAR April 2013
Irrespective of your age, it?s worth shopping around for a competitive car insurance policy. CANSTAR's car insurance star ratings report is a great place to start, followed by further comparing your car insurance options here.