Easter is a peak time of year for many Australians to jump in our cars and head off on holiday.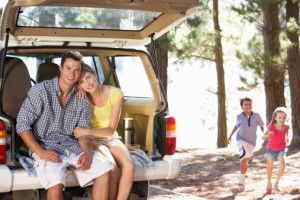 Whether we're towing a caravan or camper trailer, have a tent packed in the back or are heading towards something more luxurious, it's a great long weekend to spend with family and friends.
Our road toll statistics are a sobering reminder, though, that not every household has a happy Easter.
Tragedies aren't always in the form of a collision by two drivers, either. Break-downs can also be potentially fatal.
From May 4 to 11 it will be Yellow Ribbon Road Safety Week, a campaign that was launched following the terrible death of a motorist and tow truck operator, who were hit on a dangerous section of highway as they attended to a breakdown.
NRMA's Driving Safety Tips
With so many people on the road over the Easter break – and potentially breaking down – some safety tips from NRMA are recommended reading:
Find a safe spot to pull over such as an emergency breakdown area.
Park your vehicle as far to the left as possible.
Always activate your hazard lights.
Activate your parking lights in poor light.
Call roadside assistance on your mobile phone or use a roadside emergency phone.
When leaving your vehicle always check for traffic.
Leave your vehicle from the passenger side if possible.
Avoid crossing the road at all times.
Stand clear of the road. Move behind a safety barrier if safe.
Stay in your vehicle with your seatbelt on if it's not safe to leave.
Also of course ensure that you have roadside assistance. This may be included in your car insurance policy or you can purchase separate coverage.
Either way, it's a great safety net to have in place before you head off for your break.