Should you buy add-on insurance when you buy a car? What is add-on insurance anyway?
A recent News Ltd article called out Toyota for its disclosure that some add-on insurances purchased through a car dealership may not be good value for money. The admission wasn't a surprise to the Consumer Action Law Centre (CALC), which is currently running a "Demand a Refund" campaign that encourages consumers to ask for a refund if they suspect the add-on insurance policy they have been sold was a waste of money.
The products in the firing line of CALC are Consumer Credit Insurance, Gap Insurance and Used Car Extended Warranties, which are typically sold with cars, credit cards and loans.
"Our message to these companies is simple: stop selling junk" said Consumer Action CEO Gerard Brody at a recent public protest meeting.
"Either make these products worth something or stop selling them. After the CommInsure scandal, Australians are already furious with insurance companies and we think they'll be outraged once they find out they've been sold junk. Anyone who has bought something in a car yard, taken out a loan or got a credit card needs to check their paperwork and if they think they've been duped they should visit DemandARefund.com."
What is add-on insurance?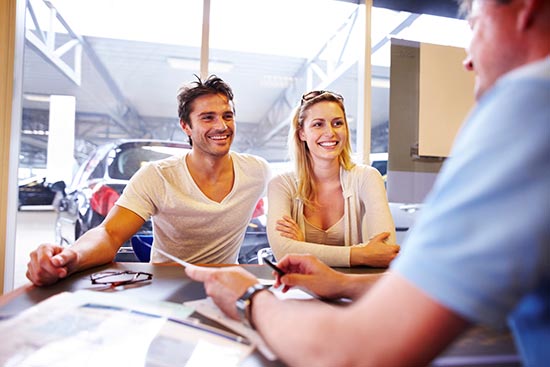 An Australian Securities and Investments Commission (ASIC) report earlier this year – Buying add-on insurance in car yards: Why it can be hard to say no – defined add-on insurance as a product sold in conjunction with a primary product. The primary product is usually the focus for a consumer at the time of purchase, whereas the add-on product is not.
Examples of add-on insurance products include consumer credit insurance (CCI) sold with loans, including car loans, and insurance sold with motor vehicles, such as gap insurance and used car extended warranties.
Consumer Credit Insurance: This insurance is designed to help the consumer pay off some or all of their loan under specific circumstance. Generally there are several choices of cover within a single policy. The insurer will meet some of the car loan repayments if the consumer dies, becomes disabled or unemployed. But policies may have exclusions, such as consumers with pre-existing conditions and/or who do not meet the insurer's definition of 'employment'.
Gap Insurance: This product can pay out the balance owing to the lender after payment of a claim by the comprehensive insurer. The need for cover depends on the difference between the insured value of the vehicle and the balance of the loan (both will reduce over time). Claims are dependent on the comprehensive insurer paying the market or agreed value of the vehicle if it is a total loss. If this insurer rejects the claim, the gap insurer will also reject the claim.
Used Car Extended Warranties: Essentially, a warranty is a promise from the vehicle manufacturer to rectify faults (parts and labour) that may occur during the warranty period. An extended warranty is an additional period of warranty that covers the cost, or some of the cost, of some breakdowns (depending on the cause of the breakdown). Generally, a warranty will apply only to a defect – not to wear and tear – and If a defect occurs during the warranty period, the dealer is obliged to fix the defect at no cost to the customer so that the vehicle is in reasonable condition for its age.
You can find out more about warranties that apply in your state from the following resources:
What does ASIC say about add-on insurance?
ASIC's insurance report was commissioned due to a number of concerns about the design, cost and sale of add-on insurance products through dealerships, including:
Up to 75% of the premium being paid as commission for some classes of products
The fact that add-on insurance products can often be more profitable for distributors, such as car dealerships, than the primary product being sold (such as the car)
Insurance completion for access to dealer networks
Compared to similar products sold through other distribution channels, add-on insurance sold through dealerships can provide poor value cover and may cover relatively narrow risks
Some sales practices and processes may be unfair (e.g. selling the policy without the consumer's informed consent).
While having appropriate insurance is important when you make a big purchase, and particularly when you are buying a car on finance, it's better to research your options –and work out what cover you actually need – before you visit the car dealership. There are plenty of car insurance providers available and it's a very competitive market.
ASIC described the add-on sales process as follows: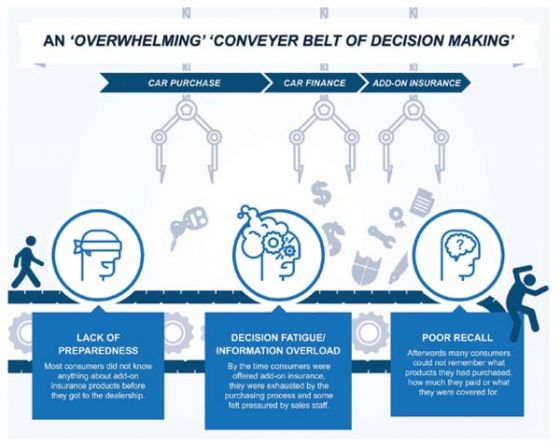 "In the context of our review, when considering the experiences and outcomes of consumers who purchased add-on insurance products, it is clear that there is not always a link between consumer satisfaction with the choices they have made and whether or not the products they purchased will be of benefit to them," the report concluded.
Featured image: Inkout (istock)