Suncorp's Online Motor Vehicle Claims, which now make use of IBM's Artificial Intelligence technology Watson, has been awarded one of Canstar's 2018 Innovation Excellence Awards, due to its streamlining of the vehicle claims process.
Suncorp's Online Motor Vehicle Claims is one of five products or services within the Australian financial services industry to be recognised and celebrated by Canstar through its annual Innovation Excellence Awards for making car insurance claims dramatically quicker, simpler and less stressful for consumers.
Making a car insurance claim typically involves the customer submitting details of the incident online or over the phone, with some providers requiring an assessor to examine the damage in person. It is generally expected an insurer will accept or deny a claim within 10 business days.
Suncorp's new Online Motor Vehicle Claims process, incorporating IBM's Watson artificial intelligence technology, is an advanced service platform capable of accelerating and simplifying the processing of more than 500,000 motor vehicle claims per year. Customers can now manage the claims process themselves without needing to call the insurer by lodging a claim, receiving the outcome, paying any applied excess and locking in the date and time of repair usually within five to 15 minutes, a process that previously took up to 48 hours.
Using IBM Watson's Natural Language Classifier, the system analyses customer descriptions of motor vehicle accidents, often written in a conversational way, including colloquialisms and Australian slang, to help Suncorp confidently determine liability.
Canstar Research found Suncorp's Online Motor Vehicle Claims a worthy recipient of the 2018 Innovation Excellence Awards due to the strong customer benefit delivered. The customer experience is expedited and streamlined, ultimately enabling customers to get their vehicle into a repairer and back on the road faster. The new system has been credited with reducing the need for most Suncorp customers to speak with a claims consultant.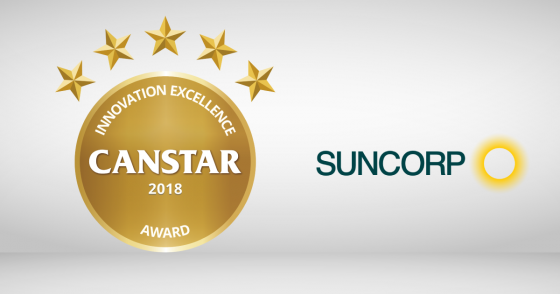 Canstar's Innovation Excellence Awards methodology
Every year we invite Australian financial institutions to apply for Canstar's Innovation Excellence Awards by putting forward their most progressive products.
When assessing each product, Canstar Research gives a 60% weighting to the degree of innovation, which largely measures how unique and disruptive the product or service is within the current market. The remaining 40% weighting examines how many consumers within the target market are affected, the product's affordability and ease of use, and the extent to which the innovation improves or affects a consumer's daily life.