According to a White Paper released by global reinsurer SwissRe, driverless car technology could significantly change the
car insurance
landscape.
Australia is certainly not the only country fostering innovation and growth – and driverless cars are a buzzword right now. The U.S. Transportation Department has recently rolled out guidelines for development and operation of driverless vehicles. Tesla, Google, Volvo, Bosch and Uber are just some of the companies currently developing driverless car technology (want to be an Uber driver? You'd better get in quick).
Could driverless cars cut your car insurance premiums
With any new technology there are winners and losers and global reinsurance giant SwissRe has noted that technological developments will profoundly change the way in which the re/insurance industry develops, distributes, underwrites, and administers the insurance protection it sells to consumers.
According to a new study, a collaboration between maps giant HERE and Swiss Re, sophisticated ADAS features could cut motor accident frequency by more than 3.5% by 2020, helping reduce the yearly 1.2 million fatal road traffic accidents worldwide.
Fewer accidents will likely lead to lower expected losses for insurers, which in turn should bring down overall 3rd party motor liability premiums. As sensors and car computing become more complex and replace an increasing number of the driving decisions, part of the liability will shift from the driver to the product manufacturer.
"For both insurers and automakers, this upheaval in the automotive industry and broader mobility ecosystem presents both challenges and opportunities." SwissRe.
In developed markets, such as Australia, SwissRe has calculated that motor insurance represents 62% of all non-life gross premium of total Property and Casualty insurance market. If those insurance premiums are suddenly put under cost pressure, this could represent a cashflow problem for insurers – although not for drivers!
A chart produced by SwissRe forecasting future motor insurance premiums both with and without adoption of driverless vehicle technology is telling…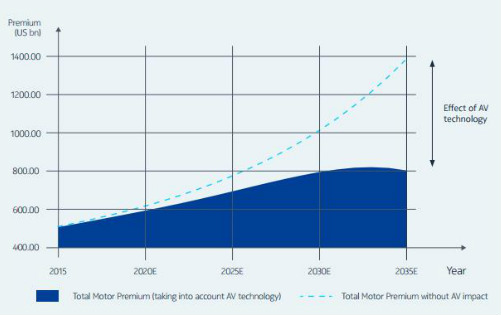 Source: SwissRe. 14 largest motor markets: Brazil, Canada, China, Egypt, France, Germany, India, Indonesia, Italy, Japan, Mexico, Russia, UK, US.
In other words, SwissRe estimates that within a six-year period just over USD 20 billion would be trimmed from annual premiums as a result of increased road safety enabled by automated car technology.
Good news for drivers
In other words, not only will your driverless car of the future enable you to eat, sleep, watch TV, work and read in your car while on the way to work – it will also be cheaper for you to insure. That's got to be good news!