For the 11
th
year in a row, Budget Direct won
Canstar's
award for outstanding value
car insurance
. We asked them what they think about the latest win.
Every year, Canstar obtains quotes from more than 20,000 car insurance providers to find out which policies provide outstanding value to drivers across Australia. The Australian car insurance industry is highly competitive, with more than 50 insurers competing for the drivers' dollars.
This year marks more than a decade of outstanding value, with Budget Direct winning their 11th national award in a row, a phenomenal achievement.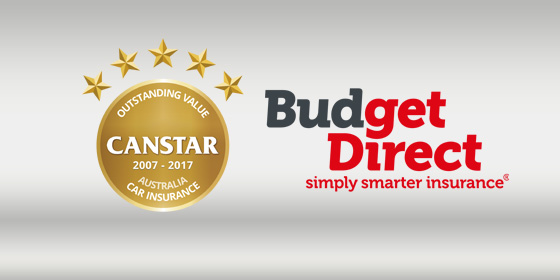 What drives Budget Direct's award-winning performance?
In determining outstanding value, Canstar looks for an ideal combination of both price and features; Budget Direct provides both.
"In some driver profiles, we saw price increases of more than 20% in the national market average," observed Canstar's Head of Research, Mitchell Watson.
Being affordable is one thing, but the Research team also found that Budget Direct offer outstanding value through competitive premiums coupled with strong policy cover. Included as standard in their policy they provide a lifetime guarantee on repairs, the option to choose your own repairer for emergency repairs, and more.
Canstar caught up with Jonathan Kerr, Director of Marketing & Digital at Budget Direct, for some insights into more than a decade of success.
Q: Congratulations on 11 straight wins! To what do you credit your continued and consistent success over the past 11 ratings seasons?
A: The entire Budget Direct team passionately believes that our success is directly tied to the value we deliver to our customers.
We believe customers should be able to get high quality car insurance with full phone and online customer service at a great price. That's what drives us and that is what makes the difference.
Q: What is it that sets Budget Direct apart from the 50-odd other insurers on the Australian market?
A: No other insurer has come close to Budget Direct's record of delivering, year after year, the vital mix of low cost car insurance with such a highly rated claims process for phone and online customer service.
The other big difference is that Budget Direct has not cut back on product benefits or service to offer competitive prices. We offer a full 24/7 phone and online claims service as well as phone and online customer service, in addition to feature-rich insurance cover.
Q: When Budget Direct entered the market in 1999 as a low cost car insurance option, you were quite a disruptor to the car insurance industry. What have you done since then?
A: Our greatest disruption remains the use of smart, customer-friendly technology to offer low priced car insurance with customer choice at its heart.
The latest versions of our Online Policy Manager system and Online Claims system are some of the most feature-rich in the country – but at the same time we also offer 24/7 phone claims.
We continue to write a significantly larger amount of insurance online than other full service competitors. This is because we offer superior online systems and continue to provide our customers with choice on how they interact with us.
These initiatives help us maintain a full product and service offering, while maintaining choice for our customers.
Q: Australians are expecting to see car insurance premiums rise in the wake of Cyclone Debbie's insurance claims. How has Budget Direct committed to keeping car insurance affordable for Australians?
A: The vast majority of Australians are sensible, careful drivers. As you will have seen from our advertising, we are passionate about rewarding those drivers with an awesome price.
We also reward smart choices in our pricing. If you want to pay extra to let anyone in Australia drive your car but in reality you won't ever use that benefit, or you want an insurer that doesn't care what expensive after-market accessories the rest of its customers add to their cars, when you drive a normal car, then we are not for you. If you just want to pay for your insurance and not everyone else's, you will find our prices and services refreshingly smarter and different.
Sponsored products are paid results and do not include all providers. CANSTAR receives a fee for referring you to the advertiser. CANSTAR is not giving you advice in relation to sponsored products.
Products displayed above that are not "Sponsored" are sorted by CANSTAR's star rating and then alphabetically by company. CANSTAR may receive a fee for referral of leads from these products. See How We Get Paid f for further information.