Learn about car insurance in Tasmania – how much it costs and how we can help you compare policies.
Are you a Tasmanian in need of a car insurance policy? CANSTAR can help you choose one that suits you and your budget. Our 2016 Car Insurance Star Ratings Research cut through the clutter of products on the market to present you with policies offering outstanding value for your driver profile. See how we rated 50 Tasmanian car insurance policies from 46 providers by clicking the compare button below.
Compare Car Insurance Policies
Average Cost of Comprehensive Car Insurance in Tasmania
As part of our 2016 Car Insurance Star Rating in May, CANSTAR researchers worked out the average cost of car insurance for different driver profiles in each state. Tasmania was found to have the lowest average premiums in the country for a number of different profiles.
Car Insurance for new cars in Tasmania
On average, this is how much comprehensive car insurance for a new car in Tasmania (registered in 2014 or more recently) will cost for the different driver profiles:
 
Average comprehensive car insurance premiums for TAS drivers (new car)
Driver profile
Annual premium
Family
$1,624
45+ years old
$568
30-44 years old
$634
25-29 Female
$777
25-29 Male
$829
Under 25 Female
$1,511
Under 25 Male
$1,704
Source: CANSTAR, May 2016. Premiums rounded down to nearest dollar.
Car Insurance for older cars in Tasmania
Across the different driver profiles, this is how much comprehensive car insurance will cost for an older car in Tasmania (pre-2008).
Average comprehensive car insurance premiums for TAS drivers (older car)
Driver profile
Annual premium
Family
$1,545
45+ years old
$511
30-44 years old
$563
25-29 Female
$538
25-29 Male
$570
Under 25 Female
$1,333
Under 25 Male
$1,512
Source: CANSTAR, May 2016. Premiums rounded down to nearest dollar
See CANSTAR's Car Insurance Ratings Methodology for more details.
Tasmania Comprehensive Car Insurance vs Other Levels of Cover
Tasmanians with registered cars are all insured by compulsory third party (CTP) insurance by the Motor Accidents Insurance Board. This provides coverage for all Tasmanians injured/killed in a motor vehicle accident, regardless of fault.
Although Tasmanian law only requires you to have CTP insurance, additional levels of cover are strongly recommended. Imagine if you crashed into someone's Ferrari – how would you be able to pay for the damage?
For the most peace of mind, consider comprehensive coverage. This is how a typical comprehensive car insurance policy compares to the other levels of coverage:
| Type | Damage to your car | Damage to other people's property (e.g. other cars) | Damage or loss caused by theft of your car | Injuries or death to other people in an accident |
| --- | --- | --- | --- | --- |
| Compulsory third party | | | | |
| Third party property | | | | |
| Third party property, fire and theft | | | | |
| Comprehensive | | | | |
Reminder – comprehensive coverage usually varies between policies. The cheapest policy doesn't always represent the best value for money. That's why CANSTAR takes coverage into account when rating Tasmanian car insurance policies.
Comprehensive car insurance – features CANSTAR looks for
Some of the features that CANSTAR looks for when assessing the value of car insurance in Tasmania includes:
Policy Benefits & Options
After Accident Care
Towing after accident, vehicle returned after repairs, Taxi fares covered after accident, Emergency accommodation after accident, Accident cleanup benefit/public liability cover, max
Repairs
Repair for excess outlay, lifetime guarantee, choose own licenced repairer, genuine parts, help locating spare parts
Windscreen Cover
No-excess windscreen claim, extra cost
Other Cover
Personal effects covered in accident, Key replacement/recoding benefit if lost/damaged, Trailer/contents cover, Baby capsule/child seat cover, Death benefit.
Rental Car
Rental car included – after theft/accident, additional cost, max days/cost daily for rental car
Roadside Assistance
Roadside Assist offered, extra cost
Standard Company Terms
Exclusions
Accidental damage, vandalism, fire/explosion, theft/attempted, hail, flood, storm, war
Company Terms
Agreed/Market value, New-for-new, Same cover for substitute car
Application/Claims Process & Support
Application Process
Can apply online, over phone, in branch
Claims Process
Can lodge claim online, over phone, in branch, via mobile app
Support
24 hour helpline, phone assistance no of days per week/hours per day for claims/application, weather alerts
Policy Terms
Excess Options
Min/Max excess, default excess in each state, nil excess, non-nominated driver excess, windscreen excess, discount for higher excess
Premiums
Monthly payment, discount for additional driver age restriction, online discount, low km discount, no claims discount, multi-policy discount, discount for good driving
Eligibility
Minimum/Maximum entry age
Customer Claims Satisfaction
Customer Claims Satisfaction
A survey is conducted measuring quality of service provided during claims
You can find out more about car insurance claims satisfaction here.
Car Insurance Providers in Tasmania
In alphabetical order, these are the 46 car insurance providers that CANSTAR rates for Tasmania:
| | |
| --- | --- |
| Aust Seniors Insurance Agency | AUSTRALIA POST |
| Bendigo Bank | Bingle |
| BOQ | Budget Direct |
| BUPA Insurance | cashback |
| CGU | Coles Insurance |
| Commonwealth Bank | Dodo Insurance |
| GE Money | Guild Insurance |
| HBF Financial Services | HSBC |
| Hume Bank | ibuyeco |
| Just Car Insurance | K-Mart Tyre & Auto Service |
| NAB | National Seniors |
| NRMA Insurance | OnePath |
| Over Fifty Insurance | Ozicare |
| People's Choice Credit Union | Progressive Direct |
| QBE | RACT |
| Real Insurance | St.George Bank |
| Suncorp Bank | Virgin Money |
| Westpac | Woolworths |
| Youi | |
2016 TAS Award Winner – Budget Direct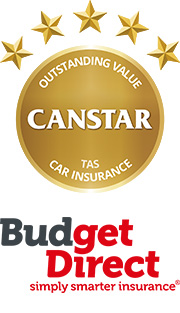 Budget Direct took out the Tasmania State Award for Car Insurance. Researchers judged that Budget Direct had the most consistent offering of outstanding value policies for Tasmanians across the different driver profiles.
Budget Direct also took out CANSTAR's 2016 National Award for Car Insurance – the tenth year in a row that they've won it. You can read more about what drives Budget Direct's performance here.
For more information on how we do our ratings and judge our awards, read our car insurance methodology here (PDF).
Tasmanian Roads – The Hard Facts
Some solid truths about driving in Tasmania, for your information.
How many cars? As at the 31st of January 2016, there were 457,629 motor vehicles registered in Tasmania.
This is around 2.5 percent of the 18.4 million motor vehicles in Australia.
Source: ABS
How many road deaths? Each year, Tasmania often has the second-lowest number of road deaths in Australia, with only ACT having fewer. But relative to its population, the state has a pretty high road fatality rate.
There were 37 deaths on Tasmanian roads in the year ending July 2016 (2.86% of national total)
In terms of deaths per 100,000 that year, the rate was 7.15, which was the second highest rate in the country after NT.
Source: Commonwealth Department of Infrastructure and Regional Development . 
Road fatality factors: The top three causes of fatal crashes in Tasmania are:

Crash hotspots: According AAMI Car Insurance Claims in 2015, these are the worst roads for crashes in Hobart:
| Road | Suburb |
| --- | --- |
| Macquarie Street | Hobart |
| Davey Street | Hobart |
| Brooker Highway | Hobart |
| Sandy Bay Road | Sandy Bay |
| Main Road | Glenorchy |
Source: AAMI
AAMI claims data also reveals that there were 992 animal-related road accident claims in Tasmania in 2015. Nine times out of ten, this was a collision with a kangaroo. These were the top five hotspots in the state for animal collisions:

Car Theft in Tasmania
In the 2015/16 financial year there were:
1,116 motor vehicle thefts in Tasmania, representing only 2.1 percent of all thefts in the country that year.
Tasmania's theft rate per 1,000 registrations was 2.39 – below the national rate of 2.86.
These were the worst areas in Tasmania for motor vehicle theft:
10 Worst Areas for TAS Motor Vehicle Theft (2015/16 financial year)
LGA
Number of car thefts
Launceston
301
Glenorchy
179
Clarence
137
Hobart
116
Brighton
71
Devonport
61
Waratah/Wynard
25
Northern Midlands
24
Central Coast
23
Meander Valley
21
Source: National Motor Vehicle Theft Reduction Council
Tasmanian Road Weather Dangers
Tasmania has the coldest climate in Australia and with that, icy roads can be a danger. Over the winter months, roads in southern Tasmania such as the Huon Highway and the Southern Outlet are particularly prone to black ice.
Like all the other states in the country, Tasmania can also experience severe thunderstorms, flooding, bushfires and hail:
Floods: In June 2016 the state was hit by the worst floods in 90 years which caused over $100 million worth of damage.
Thunderstorms: Storms are most common in the western and northern parts of Tasmania, but they can occur throughout the state.
Bushfires: The tall forests of Tasmania are a heavy fuel source for potential bushfires. These forests are usually wet, but in rare dry conditions, they can create devastating fires. The worst bushfire Tasmania ever experienced was the Black Tuesday fires of 1967. These fires ripped through Southern Tasmania and killed 62 people in one day. In 1967 Australian dollar values, the damage bill amounted to $40 million.
Compare Car Insurance Policies in Tasmania
Written by: Dominic Beattie