This year, author and entrepreneur Lisa Messenger threw the media world into a tailspin when she announced the closure of her print magazine Collective Hub after five years.
Messenger announced the closure in March this year, saying the decision was 18 months in the making, and has been open about the reasons behind her choosing to end the publication.
"What happened – and this is such an important thing – I went from being this juicy, creative, game-changing, thought leader, risk taker, always on the cusp of inventing and moving forward and creating, to having to look after the operational side of a business that was scaling way too quickly," she told Collective Hub editor Amy Molloy.
When we spoke with Lisa, she told us she needed to re-evaluate all her business units including print, digital and events to see what worked and why.
"As it turns out, we'd already commissioned an entire issue of the magazine that never went to print, so once I was able to stop, take stock and recalibrate – with kindness from retailers and our incredible community – I thought, well there is no harm in doing a "one shot (i.e. one-off special issue)" at Christmas time as it's already commissioned and paid for," Messenger told Canstar.
"Let's see where we go from there – my dream would be to do one or two bespoke issues a year but in a sustainable way."
And so, with enough fast-paced pivots to put to test even a professional basketballer's ankle, we were undeniably hooked on finding out more about where Lisa would take the business in the future.
Luckily for us, Lisa took her fans behind the scenes of this turbulent time with her latest book Risk & Resilience, where she shared her learnings and advice for other entrepreneurs.
Here we share an edited excerpt from the first chapter where we learn more about what exactly happened leading up to Lisa's decision to close Collective Hub.
Step one – let's talk money
As you will all know, I'm a firm believer in the adage, 'it's not what happens to us – it's how we deal with it'. We all make mistakes. We all have shortcomings. We all have failures. But we have the opportunity to let them sink us, OR we can use them as learning curves and springboards to propel us into a bigger, brighter future. I wouldn't have survived 16.5 years in business, emotionally, if I kicked myself and punished myself for every disappointment, rejection or ignored email. There's a quote I spotted on Instagram that summed it up beautifully: 'You don't need to be perfect to inspire others. Let people be inspired by how you deal with imperfections'. How awesome is that?
A few years ago I read a survey that found more than one in three families in England are a monthly pay packet away from losing their homes. It's a similar story in America, where a 2016 survey found that 62% of people have zero savings for emergencies such as unexpected medical bills or car repairs.
Unfortunately I think many start-ups also operate this way. They just about scrape by, knowing they can cover their bills if everything goes to plan. But we all know business is unpredictable and doesn't always flow fluidly. Even if your profits are rising strongly, a delay or unexpected downturn can be catastrophic.
Look at the facts. Every issue of Collective Hub cost hundreds of thousands of dollars to produce. That always surprises people who think of a print magazine as a cheapish entity – 168 pages of content, bound together. But even when we launched Collective Hub, with just three staff members in a tiny office space, our overheads were around AU$3.5 million a year when you took into account salaries, production and distribution, plus contributions from freelancers, photographers and cover images. And remember I was (and still am to this day), the sole owner and shareholder, and have never raised a cent in investment. That's a lot of ads to sell to cover our cost base. Then there's the cost of any additional, unforeseen expenses. Like the time our pipes burst in the office or I was invited to visit the Condé Nast headquarters in America, but had to cover my own airfare (there are some opportunities you really can't say no to!).
When Collective Hub launched, we were a small fledgling start-up with minimal staff and minimal touchpoints. It was hard NOT to be across every fragment of the business, because every conversation, whether it was about partnerships, finance or content development, happened in clear sight – and clear sound – in our small office. It was exciting and in the moment. But as we grew larger and our company more complex, the result was less communication and, subsequently, less awareness. I'm the first person to blame! I should have pressed my team for more analytical updates, project reports, statistics, analytics, data and budgets. Instead, I didn't have all the information to see the real danger coming – until it was right on top of us.
At this time, Collective Hub had experienced a period of growth beyond my wildest dreams, in terms of reach and products. We'd expanded into 37 countries, sold in thousands of newsagents across Australia, as well as Coles and Woolworths supermarkets. We'd launched a digital version on Press Reader and you could purchase issues through Zinio. We'd held more than 200 events, in locations ranging from health retreats to global conferences and the Australian HQ of Facebook. Every day, I had dozens of emails from brands desperate to collaborate with us.
The irony is that I've written entire chapters in my previous book about the importance of falling in love with data, and unleashing your inner geek. But in this period of immense growth I let my focus wane. There were so many avenues, side products, and contributors to keep track of. I knew our community was growing – rapidly – and were happier than ever with our product, which was my priority. But I had no idea how we were truly performing, financially – or what could be around the next corner. I was focused always on the growth of the brand, our community and the next big picture. I sidestepped some of the detail.
As I learnt, being the ultimate optimist and giving your team and your community everything that they desire can be a recipe for disaster. I'm not a person who regrets anything, so I don't wish I did anything differently (what's the point in that?). But I do want to save you from repeating the same mistakes I did. Have you had enough of a reality check? Okay, we'll begin with our lessons.
6 lessons from the knife-edge
Never think you are bulletproof – The moment you become complacent or comfortable is the moment it all starts to collapse around you.
Data is critical – You can fight any fight with enough passion and drive, but you need to know where to focus your energy and block the holes in your company.
Get the right people around you! – Someone who can help you to execute, someone who will always question you, someone who can control your madness and someone you can cry with.
Say no more often – Don't feel guilty saying no. Focus on the things that are going to make you great and say no to everything else.
Don't be led by your ego – Especially if you're in the public eye in any way. Don't make decisions based on what an anonymous troll says about you. Always act with your community in mind – and consciously build a community that is empathetic and forgiving.
Be grateful every day – Appreciate what has already happened and what might be ahead (yes, even on the toughest days).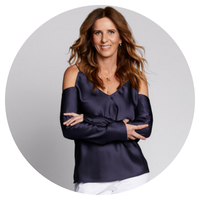 Lisa Messenger is an Australian entrepreneur and author, founding the Collective Hub in 2013. She is an international speaker and best-selling author with published books including Purpose, Daring & Disruptive, Money & Mindfulness, and Life and Love.