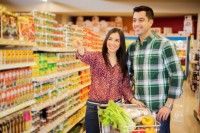 If you find yourself scratching around in the pantry when you come home from work or picking the kids up from school and everyone is starving, the temptation for an easy takeaway meal or frozen dinner can be too irresistible. But it′s an expensive choice to make, health-wise and financially.
Groceries are one of the biggest weekly expenses for a family but they′re also one of the easiest to reduce.  According to the ABS in 2012 the average Australia family spent $270 per week on food and drink.
Forward planning is the biggest key to eating on a budget. To get started why not try these tips:
1.       Plan and save
Make a list of all your family′s favourite meals and snacks and design a weekly menu to include them. You don′t want to buy food that your family doesn′t like or make your family go without.
It′s about finding ways to eat what your family loves on your weekly budget.
Plan your weekly menu so you can make the most of leftovers and what you already have in the cupboard and fridge.
Use the expensive ingredients as a supporting part of the meal and use in-season vegetables, pasta and rice to make your meals go further and fill your hungry munchkin′s bellies.
2.       Beat supermarket tricks
Supermarkets are specifically designed to get you buy more – often of items you weren′t intending to buy. But having planned ahead you know exactly what you need – so if it′s not on your list then don′t let it in the trolley!
You can get great markdowns on meat and bread when it is close to the use-by date or marked down just before new stock arrives. Divide it into portions and freeze it.
Only consider special offers if they′re a product on your list, and stock up on non-perishables when they are on special.
3.       Stick to your budget
If you are shopping in-store take the amount of money you have budgeted with you so you are forced to only spend this amount.
It is easy to blow your grocery budget if you pay with plastic and that extra $20 a week easily adds up. It will cost you an extra $1,040 a year and that′s not including credit card fees and interest!
Shopping online has the advantage of knowing how much your groceries cost before you checkout and being able to remove items so you stick to your budget.
When shopping online look out for free delivery days and use the pickup service so you don′t pay more than you would when buying the items in-store.
4.       Shop once
The more we shop the more we spend and often on unneeded items, so plan your week and shop once. Avoid corner stores and petrol stations – you will almost always pay more for everything. Convenience comes at a cost!
It often pays to have a little of your family′s favourite food on hand to prevent any late night trips to the corner store.
Check out our Savings plan calculator and Budget planner calculator.