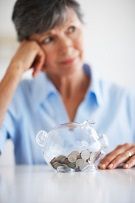 The post-Christmas money blues are well known – but if your financial pain is extending into February and beyond it may be a sign of a more permanent budgeting problem. There are some excellent resources "out there" for those who are in some financial difficulty – but the key is to recognize that you need help!
"If you are feeling financially stretched or under pressure – don't panic," says Steven Munchenberg, Chief Executive Officer of the Australian Bankers' Association (ABA). "You should firstly do a budget to see what your income and expenses are to help you get a bigger picture of your actual financial situation – don't bury your head in the sand."
Banks Want to Help
Some form of denial is a feature of life for many Australians, evidenced by the fact that we are collectively paying interest on around $34 billion of credit card debt. At an average interest rate of more than 17%, that equates to hundreds of millions of dollars per year.
"It is important to know that banks want to help their customers, especially if they're experiencing financial difficulty," says Munchenberg. "Banks have specific policies, programs and practices in place to assist their customers and depending on your circumstances, your bank may be able to help in a variety of ways. The earlier customers experiencing financial difficulty contact their bank, the more options that are likely to be available."
Are You in Financial Trouble?
So what are some of the warning signs of financial trouble? Consider how many of the following statements you can identify with:
Loan and credit card repayments (apart from my mortgage) take up more than 20% of my disposable income (i.e. your spending money)
I usually only pay the minimum payment on my credit card each month
I am generally at – or very close to – the limit on my credit card(s)
I often pretend bills and reminder notices are not there or I've skipped repayments hoping I'll make it up next time
I've applied for credit cards just to pay other household or credit card bills
I accept offers to increase the limit on my credit card without considering my financial position
I often struggle to make the rent/loan repayments each month or if I do make them, I struggle to pay for essential items such as food, clothes and medical bills
I haven't been able to pay the water/gas/electricity bill recently
I use my credit card to buy food or other essential items because I just don't have the cash
I sometimes have to go without meals or go without heating to save money
I don't have car insurance or home contents insurance because I can't afford it
I borrow money from friends, family, community or welfare organisations to manage my expenses, bills and debts
I have got or thought about a loan from a payday lender
I have had to sell or pawn possessions to make ends meet
I don't have a budget or money management plan
I don't know how much debt I owe in total
I lose sleep worrying about how I will repay all my debts
I have received a letter, default notice or phone call from my utility or phone provider, credit provider or debt collector about outstanding bills and debt repayments.
If you find yourself nodding in recognition as you read the above list, it may be a sign that your income is not keeping pace with your expenditure. If that is the case, it's important for you to determine just how serious your financial problems are.
"Banks consider that there are three types of financial difficulty – late payment assistance, financial hardship, and a prolonged and permanent state of financial difficulty," says Steven. "There are different approaches for each situation, so talk to your bank about how they may be able to help."
If you're in financial hardship, you can check out some of our tips on reducing your debt. If you would like to read more about how banks can assist their customers experiencing financial difficulty, visit the ABA's website Doing It Tough. Readers experiencing severe financial hardship can also seek independent and free advice from Financial Counselling Australia.