Vandna Mehta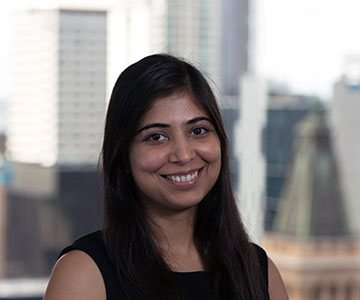 Data Analyst
I am a Data Analyst at Canstar, mainly focusing on insurance products and keeping the database up to date. Although I have been with Canstar only a short while in my current role, I absolutely enjoy what I do. As a part of my role, I have been looking after certain insurance star ratings and am looking forward to moving soon into the mortgage side. I really enjoy my role as it has increased my knowledge of financial products, something I find extremely essential for building my career.
I moved to Melbourne about 8 years ago from India and completed my Masters degree through Swinburne University. After finishing my studies, I worked in the accounting department for Quest Apartments, which I found enjoyable. A move to Brisbane a couple of years ago resulted in a shift into the finance industry and about three months ago, my relationship with Canstar started.
The Data Operations team manage hundreds of data entries for over 20,000 products across a wide range of segments. Our focus is ensuring this huge amount of data is up to date, accurate and relevant at all times. The team is comprised of two sub-teams: Wealth, who are responsible for products such as superannuation and life insurance; and Banking and General Insurance, who are responsible for products such as home loans, health insurance and car insurance.
Outside of work, I enjoy going on long walks with my husband. I love catching up with friends and enjoying a couple of drinks and board games. We often plan weekend trips away as the Gold Coast and Sunshine Coast are not too far from us. I enjoy playing squash sometimes, and if I have no agenda for the weekend, I love to sketch and paint. I don't have worry about cooking, as my husband is an excellent chef.
The work culture at Canstar is outstanding and the staff are all extremely helpful. Canstar recognises hard work and talent and there is plenty of scope for career advancement.