Paul Macdonnell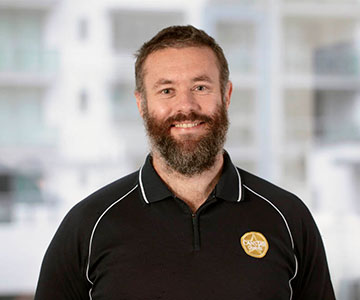 IT Systems Manager
I am the IT Systems Manager for Canstar. If it has electricity running through it, I know about it. Everything from laptops and servers, to phones and network links, to printers and cameras.
It's my job to keep the lights on and keep people working as effectively as possible. It's not just the people, though. It's also all of our customer-facing services – ensuring all of our websites are functioning and performing as fast as possible. I've had various roles in my time here, starting as an Analyst Programmer, moving into System Administration, and working towards where I am today.
My love affair with everything IT began way back in primary school when I got my book on programming the Apple. Teaching myself AppleSoft Basic was a great time in my life. I wrote everything from simple graphics drawing applications, to small databases for video collections. I had a great time designing and implementing these.
High school and university only further deepened my devotion to IT. Here I learned more process and design, but also had the opportunity to both teach and learn from my other classmates. Many lunchtimes and evenings were spent in the computer labs working through ideas (and only sometimes playing games).
My earliest days in the workforce were spent in computer sales. Helping people chose and customise their home computers was great fun. It was also where I first started getting into the Internet and became a Netizen. I got my first email address in 1994 – now, I've lost count of how many I've had.
I've worked for Internet Service Providers (ISPs), starting out on phone support and working through to become the Senior System Administrator. I've been an analyst programmer, mostly coding in PHP and Perl. It's been a while since I've had to wear my developer hat, but it still gets dusted off and worn from to time. Most recently, my time has been spent digging around servers and networks, while working closely with third party vendors to help deliver products and services.
IT is very central to all things Canstar. A large portion of what Canstar develops is delivered over the internet or via some other electronic medium. The IT team is made up of many great people, each an expert in their own area. Working together, there's nothing we can't achieve.
The things that keep me sane outside of work include beach volleyball and photography. I've been jumping around on sand for nearly 15 years now and have a real passion for the game. I've enjoyed some great successes on the court, but have also learned a lot about team work and communication. Without these, you can never be truly successful. Photography really allows me to indulge my creative side, but also allows me to record many great memories to share and reflect on in years to come.
I have a 2-year-old son at home who is just an incredible little person. I hope to be able to instil some of my beliefs and knowledge in him, but truly he teaches me more every day.
My journey through Canstar has definitely been full of challenges and helped me to grow as a person and as a professional. Canstar has certainly helped me become the best person I can be.