Joshua Berry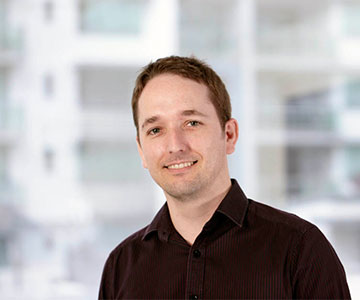 Product Specialist
I started working at Canstar over four years ago as a Data Analyst, where I worked on collection, maintenance and quality control for a number of banking and general insurance products including deposit accounts, business loans, home and contents insurance, and car insurance. Through the knowledge I have gained of the various systems that we use, which are built in-house, I have since moved on to a new role that involves developing new products using current services that are currently done ad hoc. I also assist in the development and improvement of the systems we use.
From a young age, I wanted to have a wealth of experience in a number of varied jobs before I settled down into a career. I worked on banana farms while I was at school, delivered pizzas after I left school, then worked for six months in door-to-door sales. Although door-to-door sales was not the most glamorous of positions, it was fun while it lasted. I moved to Brisbane in 2004 and worked the graveyard shifts at a service station from Friday night through to Monday morning.
Eventually I decided that I would like to work in finance as it interested me, and I am now studying a Bachelor of Business online through USQ while working full-time at Canstar. At this point in time I spend a lot of my time studying. When I have free time, I like to play video games.
The Data Operations team look after the data that Canstar holds in its database. The team collects, maintains and ensures quality across approximately 20,000 financial products, so that when that data is used in the various star ratings we are confident in the results.
The thing that I enjoy most at Canstar is the people. I have never before worked for a company where people are so likeable. I have also enjoyed the opportunities that I have been provided through working at Canstar. I have learned a great deal and have a number of people whom I see as mentors for my career moving forward.