ME: Bank of the Year – Term Deposits
ME is a provider of term deposits, business or SMSF term deposits, bank accounts, home loans, credit cards, personal loans, and business bank accounts.
"Make the most of ME."
ME Term Deposits
ME is the winner of CANSTAR's 2016 Award for Bank of the Year – Term Deposits. They were also the winners of this award in 2015.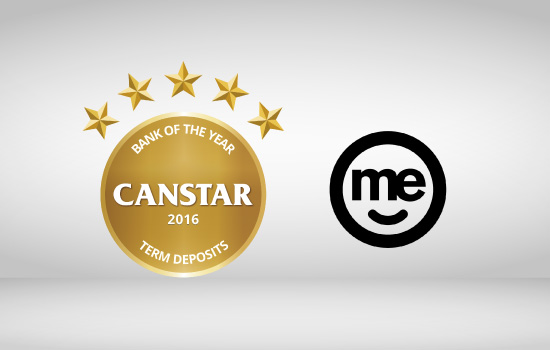 Here are just a few of the reasons why we have assessed them as providing award-winning, 5-star rated outstanding value:
Who can open a term deposit: Available for personal investment only.
Term lengths: ME Bank offers term deposits of 1 month up to 5 years.
Minimum deposit: A minimum deposit of just $1,000 is required to open a term deposit with ME Bank.
Fees: At the time of writing, ME Bank advertises that they charge zero bank fees on their term deposits. That means no set up fee, and no account-keeping fees, either.
Maturity: You can specify your own maturity date. You receive a reminder notification via the post 10 business days before your term deposit matures and comes due for renewal, and you can give instructions over the phone to pay out the deposit upon maturity or renew and rollover the deposit.
Interest payments: You can choose how often you receive interest. Interest is calculated daily and can be paid at maturity (for term deposits less than 1 year), monthly, quarterly, 6 monthly, or annually.
Early withdrawal: From 29 May 2016 onwards, you must provide 31 days' notice before withdrawing your term deposit if it is not due to mature yet. (Term deposits opened or rolled over prior to 29 May 2016 allow early withdrawn without requiring notice.)
These inclusions represent a selection of what is covered, based on information provided to CANSTAR by ME Bank. Additional conditions may apply to different features. CANSTAR is not making any suggestion or recommendation to you about this product. Please ensure that you read the product disclosure statement to determine all the current policy options and inclusions for the product you are considering.
What can customer of ME receive?
ME Bank customers receive a range of benefits:
Term Deposit Calculator: Use the ME Bank Term Deposit Calculator to find out how your deposit could grow over time until maturity.
Get 'appy with me: The ME Bank mobile banking app is available on the iStore for Apple devices and Google Play for Android. You can even login using Touch ID.
Source: ME Bank
About ME
ME was founded in 1994 as Super Member Home Loans, with the goal of helping Australians access home loans to own their home. They received their banking licence in 2001 and have grown steadily since then. As at June 2015, ME had 338,000 members.
Profits from ME go to the 30 industry super funds that own the company.
ME's head office is in Melbourne and they have offices in every Australian capital city.
If you're into the current Pokémon GO app craze, you'll be pleased to know you can now find a Meowth at select ME ATMs!
How ME supports the community
Mother's Day Classic: ME is proud to be a major sponsor of the Mother's Day Classic fun run for breast cancer research. In fact, they have been a major sponsor for the past 12 years.
Source: ME
Ignite ME Hackathon: In 2016, ME's first hackathon event provided an opportunity for 63 innovators in 20 teams to compete to create new and exciting software solutions.
Source: ME
Supporting those who support us: ME is a major sponsor of the HESTA Awards, which recognise and celebrate the achievements of HESTA members who are nurses, primary health care workers, early childhood teachers, aged care workers, and workers in the community services sector.
Entertainment: ME sponsors Village Cinemas Australia including Village, Event, Greater Union, and Birch Carroll & Coyle cinemas around the nation.
How ME protects the environment
In 2015, ME reduced their carbon emissions by 20% against 2014 levels. They also reduced their overall paper usage by a whopping 80% from 106 tonnes in 2014 to just 22 tonnes in 2015. That's seriously impressive!
Head office in Melbourne, where the majority of ME staff work, received a Green Star 5-star rating in 2013 from the Green Building Council of Australia.
Sustainable partnerships means when ME sources new suppliers, they research which brands have a high level of corporate responsibility, environmental management, supply chain management, human rights, and community impact.
Read about our other Bank of the Year – Term Deposits winners
Written by: TJ Ryan
To the extent that the information in this report constitutes general advice, this advice has been prepared by CANSTAR Research Pty Ltd A.C.N. 114 422 909 AFSL and ACL 437917 ("CANSTAR").  The information has been prepared without taking into account your individual investment objectives, financial circumstances or needs.   Before you decide whether or not to acquire a particular financial product you should assess whether it is appropriate for you in the light of your own personal circumstances, having regard to your own objectives, financial situation and needs.  You may wish to obtain financial advice from a suitably qualified adviser before making any decision to acquire a financial product.  CANSTAR provides information about financial products. It is not a financial provider and in giving you information it is not making any suggestion or recommendation to you about a particular financial product.  Please refer to Canstar's FSG for more information.
The information in this report must not be copied or otherwise reproduced, repackaged, further transmitted, transferred, disseminated, redistributed or resold, or stored for subsequent use for any purpose, in whole or in part, in any form or manner or by means whatsoever, by any person without CANSTAR's prior written consent. All information obtained by CANSTAR from external sources is believed to be accurate and reliable. Under no circumstances shall CANSTAR have any liability to any person or entity due to error (negligence or otherwise) or other circumstances or contingency within or outside the control of CANSTAR or any of its directors, officers, employees or agents in connection with the procurement, collection, compilation, analysis, interpretation, communication, publication, or delivery of any such information. Copyright 2014 CANSTAR Research Pty Ltd A.C.N. 114 422 909.  The word "CANSTAR", the gold star in a circle logo (with or without surmounting stars), are trademarks or registered trademarks of CANSTAR Pty Ltd.   Reference to third party products, services or other information by trade name, trademark or otherwise does not constitute or imply endorsement, sponsorship or recommendation of CANSTAR by the respective trademark owner.