Beyond Bank is a provider of home loans, personal loans, credit cards, bank accounts, insurance products, and travel products.
"Expect more. Go beyond." (Beyond Bank)
Loan Options: What Beyond Bank home loans offer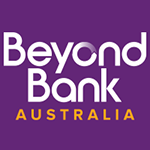 The inclusions below represent a selection of the features available with a standard Variable Rate home
loan of $350,000 for an owner-occupier. CANSTAR is not making any suggestion or recommendation to you about this product. Please see our comparison tables for more details and information about products on offer from this provider and other home loan providers on our database.
Compare Home Loans with CANSTAR 
Additional conditions may apply to different features. Please ensure that you read the product disclosure statement to determine all the current loan terms and conditions for the product you are considering.
Beyond Bank Standard Variable Home Loan Features
No ongoing monthly or annual fees.
Offset account available.
Redraw facility available.
Split loan facility available; unlimited splits allowed; no split loan application fee.
Mortgage is portable.
Repayments may be made weekly, fortnightly, or monthly.
Additional repayments allowed.
Lump sum repayments allowed.
Interest only option available for 5 years.
Minimum loan amount $10,000 – up to $2 million maximum loan amount.
About Beyond Bank
Beyond Bank is a mutual bank and in fact it is one of Australia's largest customer-owned banks, with more than 200,000 customers and 50 branches. Beyond Bank began its story life as the Community CPS Australia credit union. It is based in South Australia, the ACT, WA and NSW and the customer service call centre is locally based.
Source: Beyond Bank
Beyond Bank takes customer feedback seriously, even when it comes from social media through their Facebook and Twitter accounts.
When it comes to supporting the community, the Beyond Bank Australia Foundation has invested more than $15 million in grants into Aussie communities since it began in 2007. Community sponsorships at the time of writing include the Women's and Children's Hospital, Run Newcastle, Hutt Street Centre for homelessness in Adelaide, Relay for Life, and the Beyond Bank Financial Wellbeing education program for schools and parents.
Beyond Bank staff personally contribute over 1,000 hours of volunteer work every year by using Community Leave Days for the causes that matter to them. Customers can get involved on the Beyond Bank blog, with opportunities to volunteer for the community, success stories from sponsored community organisations, the latest news in finance, and general financial advice.
Source: Beyond Bank
In 2013, Beyond Bank created the innovative Community Banking products. The Community Rewards savings account donates a percentage of your balance every year to worthy charities; the Community Account bank account is designed for community organisations; and discounts on financial products are available for customers who serve as volunteers.
For a little something cultural, Beyond Bank offers the Arts Card, a credit card that can only be used to purchase artworks and is interest-free for 12 months.
As for sustainability and protecting the environment, Beyond Band was the first Australian bank to become B-Corp certified, a global movement for social, environmental, and financial sustainability.
Source: Beyond Bank
Beyond Bank has also been a member of the United Nations Environmental Program Finance Initiative (UNEPFI) since 2008. They also partner with Greening Australia to plant more native habitats and restore ecological systems.
Compare Home Loans with CANSTAR 
CANSTAR provides an information service. It is not a credit provider, and in giving you information about credit products CANSTAR is not making any suggestion or recommendation to you about a particular credit product. 
If you decide to apply for a credit card you will deal directly with the financial institution, and not with CANSTAR. Rates and product information should be confirmed with the relevant financial institution. For more information, read our detailed disclosure, important notes, and additional information.
Read the Comparison Rate Warning when comparing interest rates on home loans.
Written by: TJ Ryan