Bendigo Bank is a provider of home loans, personal loans, credit cards, bank accounts, travel needs, insurance products, investment products, and superannuation funds, and even telco plans.
"Bigger than a bank." (Bendigo Bank)
Loan Options: What Bendigo Bank home loans offer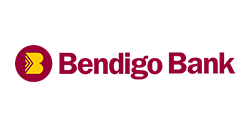 The inclusions below represent a selection of the features available with a standard Variable Rate home
loan of $350,000 for an owner-occupier. CANSTAR is not making any suggestion or recommendation to you about this product. Please see our comparison tables for more details and information about products on offer from this provider and products on offer from other providers on our database.
Compare Home Loans with CANSTAR
Additional conditions may apply to different features. Please ensure that you read the product disclosure statement to determine all the current loan terms and conditions for the product you are considering
Bendigo Bank Standard Variable Home Loan Features
Connect Package option available – includes discounted rates and fees on super, insurance, accounts, loans, and financial planning.
Offset account available.
Redraw facility available.
Split loan facility available; unlimited splits allowed; split loan application fee may apply.
Mortgage is portable.
Repayments may be made weekly, fortnightly, or monthly.
Additional repayments allowed.
Lump sum repayments allowed.
Repayment holiday allowed (if sufficient repayments have been made in advance).
Interest only repayments available for up to 10 years.
Minimum loan amount $5,000 – up to unlimited maximum loan amount.
Family or non-family guarantee option available.
Source: Bendigo Bank
About Bendigo Bank
Founded in 1858, Bendigo Bank now has more than 150 years of experience in providing home loans. Today they serve around 1.5 million customers in more than 500 communities around the country.
Bendigo Bank in Victoria and Adelaide Bank in South Australia both began as building societies striving to help Australians buy their own home. The two banks have now come together to operate the following financial services brands:
Bendigo Bank
Adelaide Bank
Sandhurst Trustees
Leveraged
Rural Bank
Delphi Bank
Community Sector Banking
Homesafe Solutions
Bendigo Bank recently created the Communities crowdfunding platform, which enables customers and staff to connect with other like-minded people and open financial doors for a group or project:
Source: Bendigo Bank
Apart from encouraging Australians to make a difference for others, Bendigo Bank takes their own corporate and social responsibility seriously. So far they have poured $148 million back into the community through:
Source: Bendigo Bank
Compare Home Loans with CANSTAR
CANSTAR provides an information service. It is not a credit provider, and in giving you information about credit products CANSTAR is not making any suggestion or recommendation to you about a particular credit product. 
If you decide to apply for a credit card you will deal directly with the financial institution, and not with CANSTAR. Rates and product information should be confirmed with the relevant financial institution. For more information, read our detailed disclosure, important notes, and additional information.
Read the Comparison Rate Warning when comparing interest rates on home loans.
Written by: TJ Ryan